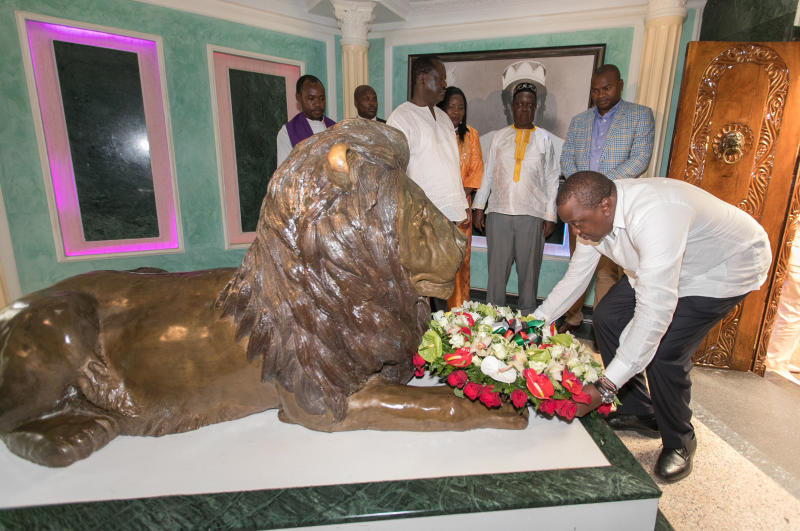 A museum in the home of Jaramogi Oginga Odinga will be refurbished at a cost of Sh8 million. An official of the National Museums of Kenya (NMK) said plans to rehabilitate the facility, which also hosts the Jaramogi Oginga Odinga Mausoleum, had been informed by the large number of visitors to the site. NMK Regional Coordinator for Antiquities, Sites and Monuments Daniel arap Mitei said they plan to fix several other museums across the country. He revealed that the Government was also planning to upgrade nearly 100 archeological sites in the region in a project estimated to cost over Sh2 billion.
SEE ALSO: Nowhere to run as Sh13m safe houses project stalls
"So far, we are sourcing for funds from multilateral donors and line tourism development agencies to do the repairs," Mr Mitei said. He was speaking to The Standard at a Kisumu hotel where he received NMK Managing Director Mzalendo Kibunjia who visited the Jaramogi Museum to inspect the condition of the building. The mausoleum, which is locally known as Kang'o ka Jaramogi and is "guarded" by two lion statues, has been a popular tourist destination for guests who wish to see where the country's first vice president was buried in 1994.
Political history
The museum serves as a repository of the country's and Jaramogi's political histories, as well as a home to the many artefacts he possessed during his long political journey.
SEE ALSO: Patients on their own as medics go on strike
The items on display include Jaramogi's fly-whisk and old pictures, dating back to post-Independence Kenya. There is a briefcase, clothes and ceremonial hats that epitomise the power and traditional authority Jaramogi wielded in his day. Then there are the famous akala shoes, which are said to have been Jaramogi's favourite footwear, a goatskin and a bed. The facility has been showing its age after standing for two decades without a fresh coat of paint or major repairs. "Our intention is to do a major facelift of some of the historical sites to attract more investors and pilgrims," Mitei said.
SEE ALSO: Kisumu health workers to down tools
President Uhuru Kenyatta visited the museum early this year and directed that it be rehabilitated. The other facilities to be repaired include Kabarnet Museum, formerly a district commissioner's house, located in Baringo town. Then there is Karen Blixen Museum in Nairobi, which is named after the Danish author best known for her memoir Out of Africa. Kenya Railway Museum, which is located along Uhuru Highway in Nairobi, houses train carriages dating back to early 1900s. Hyrax Hill Museum, which is located four kilometres from Nakuru town, was established in 1965 after the discovery of relics from a settlement dating back 3,000 years. Narok Museum, which is one of the more recent facilities, displays artefacts of the Maasai people and other Maa speakers such as the Njemps from Baringo, Ndorobos and Samburu from Laikipia and Nyahururu counties. Kariandusi Museum is located along the Nairobi-Nakuru highway. It was founded in 1928 in one of the most famous pre-historic sites in Africa.