Rasanga clears air on Sh709m debt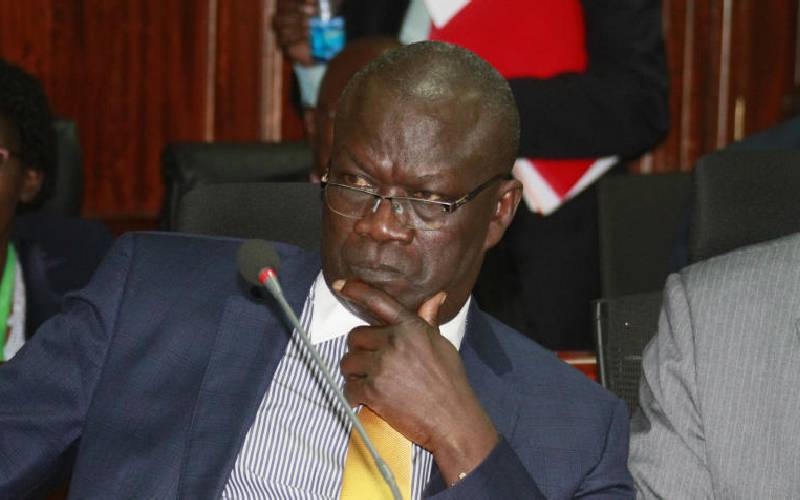 Siaya County owes contractors and suppliers Sh52 million, and not Sh709.7 million, its governor Cornel Rasanga has said.
In his report of the 2017/18 financial year, Auditor General Edward Ouko said Siaya had pending bills amounting to Sh709.7 million.
"If at the time of the audit the county presented a list of pending bills worth Sh709 million, how did it decrease from Sh709 million to Sh52 million? Were some paid or you found out that some were a fraud and disposed of?" County Public Accounts and Investments Committee Chairman Moses Kajwang' (Homa Bay) asked.
But Mr Rasanga, (right), in an attempt to clear the air over the audit queries, said: "When I saw the figures, I was actually shocked. I ordered an internal audit after I saw some abnormal figures from the auditor. After the audit, only Sh52 million was found to be legible".
Rasanga's disclosure adds to the puzzle that has marred counties over pending bills, with a majority of governors disowning figures released by Mr Ouko after the special audit.
"There is a need for the auditor to come to the ground and establish the actual pending bills. As far as we are concerned, the only pending bills we have is Sh52 million," Rasanga insisted.
The governor was also asked to explain why his administration paid workers Sh351 million outside the payroll.
The audit report had revealed that the county finance officers could not explain why the money was paid contrary to the laid down procedure.
"Were these ghost workers, or who were they? And why were they paid off the payroll? This is a fundamental matter that must be explained," Mr Kajwang' said.
Rasanga said the money was paid to casual workers who had been hired to collect garbage in all 30 wards.
"The law allows us to only engage casual workers for three months. After that, there is a turnover," he told the committee.
The county chief was hard-pressed to explain how his government spent in excess of Sh17 million for the branding of the county government of Siaya during the 2016/17 financial year.
Rasanga was also asked to explain how a local advertising company was paid 50 per cent of the contract sum of Sh17,655,000 by his administration despite not rendering any service.
"We have no documents nor terms of reference to lay before this committee because this company did not do any work," Rasanga told the committee.
"I request this committee to give me time to crack the whip on my officials, though as a result of this, I have sacked and indicted some of my officials," he added.
However, some members of the watchdog committee termed the contract on branding fictitious. "This contract is nothing but pure conmanship designed to siphon public resources," Kajwang' said. [Rawlings Otieno]