Court told how policeman shot dead bar employee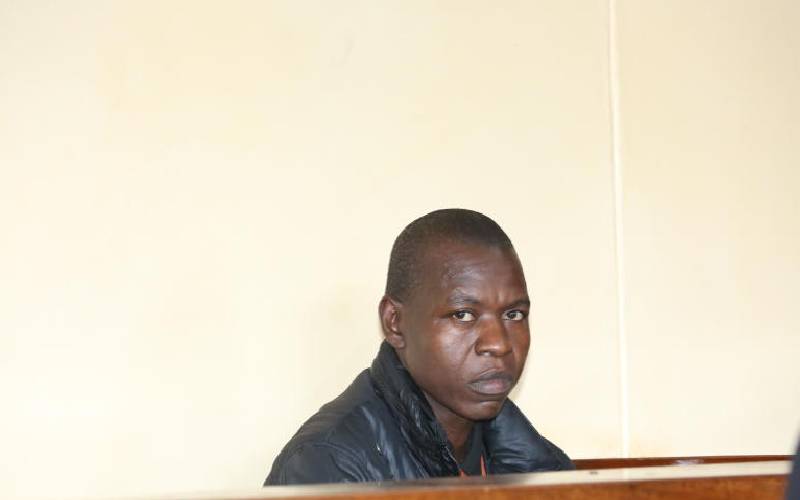 Three witnesses yesterday narrated to court how a police officer killed a bar employee last month.
Erick Mosiria, a taxi driver, told High Court judge David Majanja that the officer, Joseph Mauti, arrived at Maximum Bar around 10.30pm on April 11.
After having a few drinks, Mauti started shouting he would kill someone.
He said Mauti, who is based at Itumbe Police Station, was dressed in police uniform and was armed when he arrived at the bar.
He cocked his gun as he shouted he wanted to kill someone. Soon after, gunshots were heard, said the witness.
"All revellers went down amid the confusion. Most of them did not realise he had shot someone. It was after he had left that we saw Dominic Oyunge in a pool of blood on the floor. The officer had already walked out," Mosiria told the court.
He also told court of how residents tried to stop the police from collecting the body from the scene which resulted in a violent confrontation.
Ms Lillian Mokeira, who works as a cashier at the bar, said the officer went straight to her desk when he arrived and demanded to be served.
Mokeira said she asked him to pay before she could serve him but he refused.
"When I told him to pay, he said he was not going to pay any money. He placed his gun on the counter and threatened to shoot me if I disobeyed him," she said.
The officer, she said, moved to the next counter and a fer minutes later, she heard gunshots. "The employees and revellers took cover only to realise later that Oyunge had been shot dead," said Mokeira.
Ms Emily Sarange, also a cashier at the same bar, told court the officer was had been drinking at the bar regularly for two weeks before the killing.
She said Oyunge worked as a cook and cleaner at the bar.
"We don't know why the officer shot Oyunge since the two did not engaged in any discussion that night. The office had had been pointing his gun at revellers before the incident," she said.
The hearing will continue on May 21.