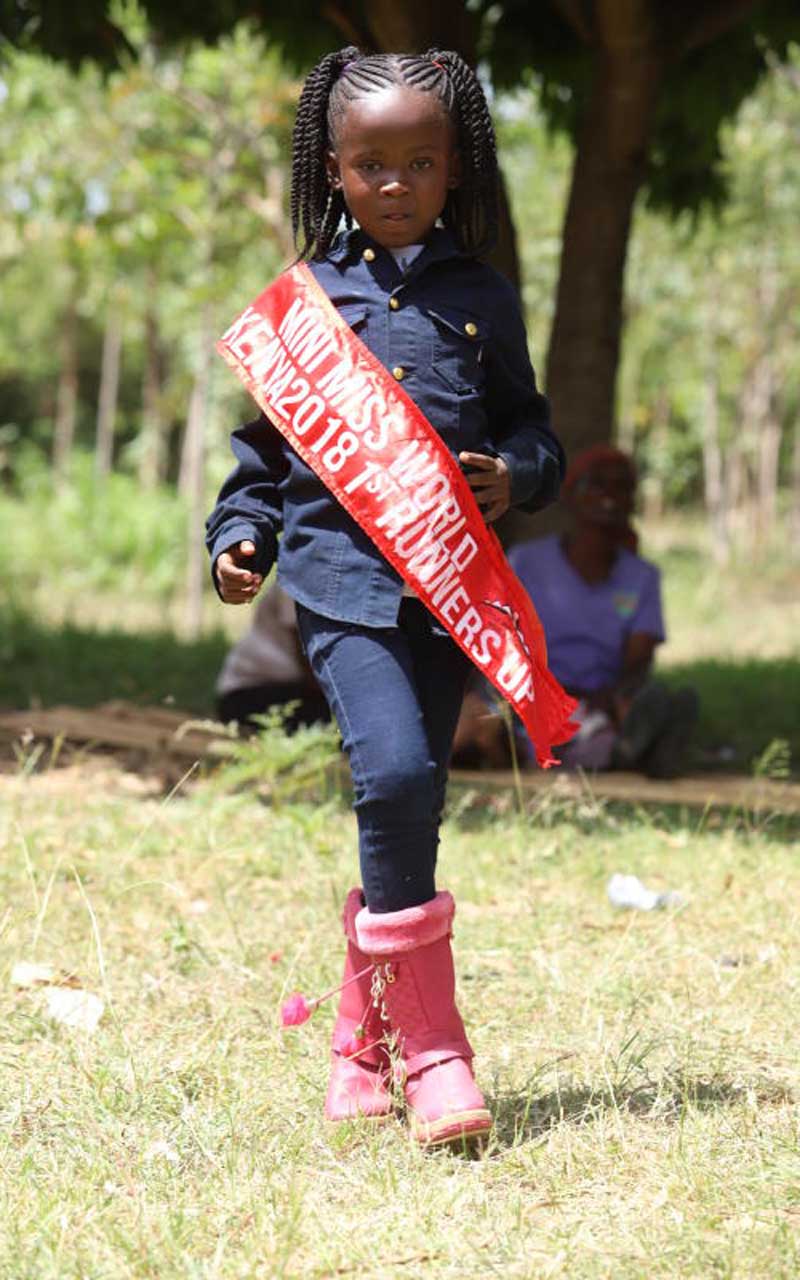 When not at school or doing homework, Aileen Akinyi spends time perfecting her modelling skills on the lawn. The Grade One pupil at Hawi Group of Schools in Seme, has become the talk of the village. At only six years old, Aileen has won several titles on the runway. She currently holds the titles of first runner-up, Mini-Miss World Kenya, 2018, first position, Tinny-Miss Kisumu County, 2017, and first runner-up, Tinny Princess Kenya, 2017. She is set to represent Kenya in Miss Tinny competition to be held in Spain in September, and then in Japan a month later. When The Standard caught up with her at their Got Okode village home in Seme, fellow children who look up to her, with some as old as 13 years, listened keenly as she courageously gave instructions on how to stand, pose and walk on the runway. She has turned the cool lawn at her home into a runway for practice whenever other children show up.
Award-winning
A kilometre away lies the home of award-winning Hollywood actress Lupita Nyong'o, and she wants to emulate the actress' global successes. Aileen interrupts her sessions with the children to welcome us, says a quick prayer before running out to catch up with her 'trainees'.
Her mother, Stella Otieno, says her talent was discovered in 2017 during their wedding (Aileen's parents') where she was a flower girl. "She left guests in stitches with her catwalk. Many were impressed. She keeps asking me if she will be travelling but I lack answers," she said. Ms Otieno recounts how her daughter made her board a plane for the first time last year. She flew alongside Tourism Cabinet Secretary Najib Balala and other dignitaries to Nairobi and back. Aileen had been selected to welcome the Cabinet secretary to Kisumu International Airport during the launch of a flight. Aileen is notably a top performer in class. She takes her school work seriously and only practises modelling after she is done with her school work. Last year, she bagged the first runner-up prize in the category of Mini-Miss Kenya 2018. In November 2017, Aileen became a finalist and second runner-up in the Little Miss Kenya, a national competition that was held at Michael Joseph Centre in Nairobi. She also qualified for Little Miss World contest in Greece but could not travel due to lack of money. Her parents could not afford it, and just like that her hope of travelling to Greece to represent Kenya was dashed. The girl, who is meant to travel to Spain and Japan later this year, now fears the same fate might befall her again. Aileen's parents have been scratching their heads over where to get the money required to take her to the two international modelling events. "It would be disappointing for our daughter to fail to represent Kenya again because of financial constraints. She keeps asking me if she will be travelling but I lack answers," says Otieno. Her parents put the cost of travel and accommodation to Spain at Sh600,000 and to Japan at Sh400,000. Back at their home, Aileen runs around with her peers, oblivious of the unraveling reality that she might miss, for the second time, two international competitions that could thrust her into instant stardom. Her parents are calling on well-wishers to help their daughter achieve her dreams.