County offers farmers Sh13m for crop losses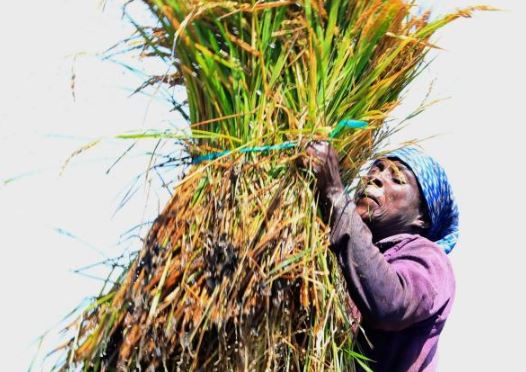 Kisumu Governor Anyang' Nyong'o has pledged Sh13.5 million to cushion rice farmers at the Ahero Irrigation Scheme who suffered losses after following strong storms that hit paddies last week.
Paddies ready for harvesting were destroyed during a hailstorm that hit the area for three days.
Prof Nyong'o said Sh1.5 million will be released this month for the preparation of affected fields for the next planting season.
He said Sh12 million will go towards cushioning farmers who suffered huge losses.
The governor stated that what remained of the crop would be used to produce animal feed.
Speaking when he visited the scheme, Nyong'o assured the farmers that their school-going children would benefit from countybursaries as a further measure to lighten the burden of the loss,estimated to be between Sh50 million and Sh60 million.
Heavy rains pounded Nyanza last week after a long dry spell. Interviews with farmers and irrigation officials established that the crops that were destroyed were due for harvesting and the production was good.
Three blocks
Take a quick survey and help us improve our website!
Take a survey
Ahero Irrigation Scheme chairman Charles Awero said about 681 acres of land with mature rice were destroyed by hailstones on Sunday night.
He said that they had projected to harvest about 20,000 bags of rice from the farms that were destroyed.
The farms have been divided into three blocks. Some 236 farms were destroyed in the first block, another 286 farms were destroyed in another block, while the third block had 100 of its farms destroyed.
"What has happened to us is very unfortunate. Most of the farmers were preparing to harvest their produce, but they have now lost almost everything," said Awero.
The farmers said its been a while since hailstones destroyed their crops.
"We are used to floods, but this time round, we suffered from the effects of hailstones. It has been raining for the last couple of days, and this has destroyed a big proportion of our crops," he added.
Charles Ouma, one of the farmers, fears that with their only source of income destroyed, they may not be able to take their children to school.
"The market was ready and everything was in place for this season's bumper harvest, but this is not going to be. We can now only hope that the national or county government will come to the rescue of farmers to help us prepare for the next planting season," said Mr Ouma.