Blame games as raw sewage flows freely to Kisii's major rivers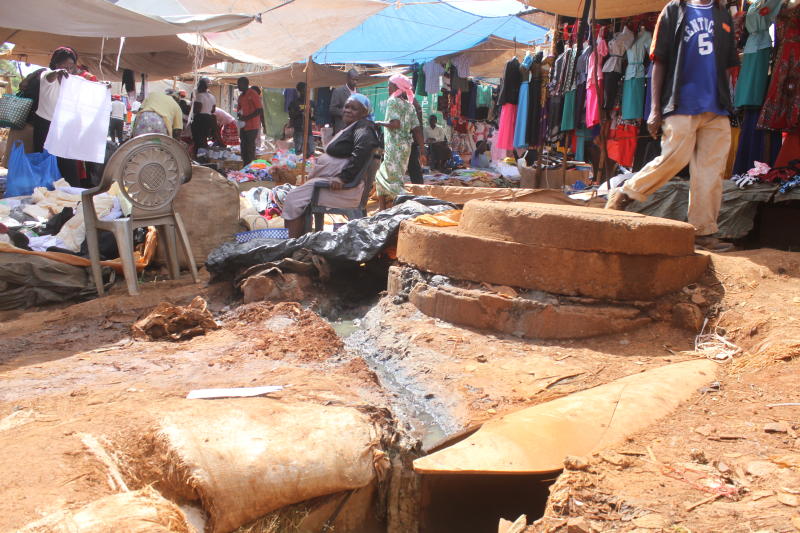 Private developers have been warned against discharging raw sewage into rivers and streets.
Governor James Ongwae also told county officials not to approve illegal constructions, some of which have been blamed for the pollution.
The Health and Water departments as well as the Gusii Water and Sanitation Company and the Environment Management Authority (Nema) have blamed one another for the mess.
Nema has been accused of failing in its role to ensure that the environment was protected. The Health Department said water pollution was complicating matters due to the risk of waterborne diseases.
Raw sewage flowing through the streets of Kisii town has become a common sight.
County officials have failed to keep their promises to fix broken and blocked pipes.
The effluent has polluted Nyakomisaro River, a tributary of Riana River, a major source of water for residents of Kisii and Migori.
County officials have been accused of taking bribes to approve illegal constructions.
Mr Ongwae, who was addressing senior county officials yesterday, said it was regrettable that those responsible had turned a blind eye to the suffering of residents.
"I have not been as strict with these officers but let them be warned that it will no longer be business as usual. It is unacceptable that on officer can allow construction on a river bank and put the lives of our people in danger," said Ongwae.
Dumping of solid waste in major rivers and in Kisii town has been a problem for some time now, but there seems to be no solution in sight.
Other than contaminating water, illegal constructions have also diverted rivers.
Early this year, Health Chief Officer Melitus Kabari announced that all springs in Kisii town had faecal contamination and advised residents to boil or treat drinking water.
Mr Kabari said laboratory analysis had shown that all springs had particles from toilets.
Water Executive Skitter Ocharo said some developers had tampered with the sewer lines.
"We have identified the specific developers and action will be taken against them soon. These are people who have interfered with sewer lines by constructing illegal structures," Dr Ocharo said.