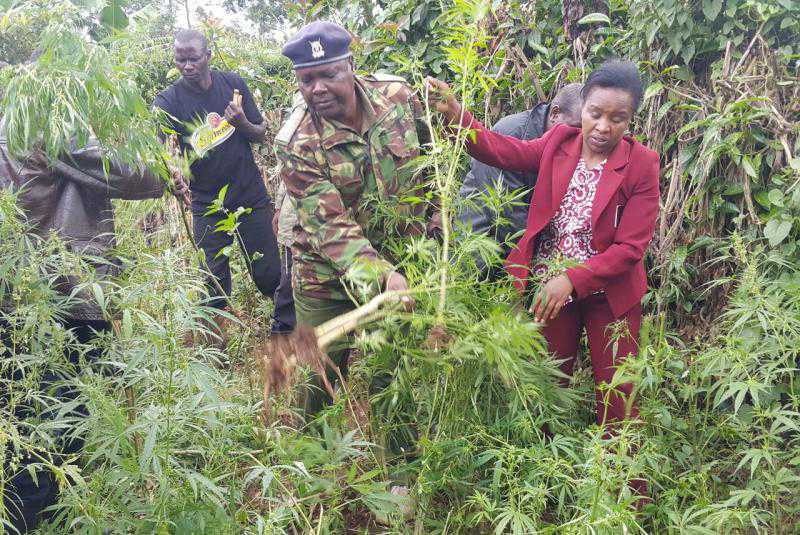 Police in Migori on Thursday uprooted bhang from a plantation worth more than Sh15 million.
The officers, acting on a tip-off, descended on the one acre farm in Suna West Subcounty on the Kenya-Tanzania border.
The farm owners are said to be the main suppliers in the region.
Migori is a major transit route for bhang destined for Nairobi and other major towns in Kenya.
Read More
Most of it comes from Tanzania and Kenyan growers living at the border.
Police also impounded 20 sacks of bhang that had been harvested and was ready for transportation.
Migori County Administration Police commander Julius Amariko said officers were acting on intelligence reports.
They rushed to Riangora village at dawn and uprooted the bhang.
Some of the workers who were at the farm fled when they saw the police.
"Police on patrol received a tip from the public about a consignment of bhang hidden in a home," Amakanda said.
The Commander said the bhang was hidden in a maize plantation.
The suspects, said to be members of the same family, fled to Tanzania. The sacks of bhang were hidden in their home.
Suna West Deputy county commissioner Mballa Mutua urged residents to stop selling bhang.
"We have been fighting this menace, telling people to stop this illegal trade but what has happened today is baffling," Mutua said.
"We shall make sure all the culprits are apprehended and all the bhang uprooted."