Governor gives DNA in 8-hour grilling session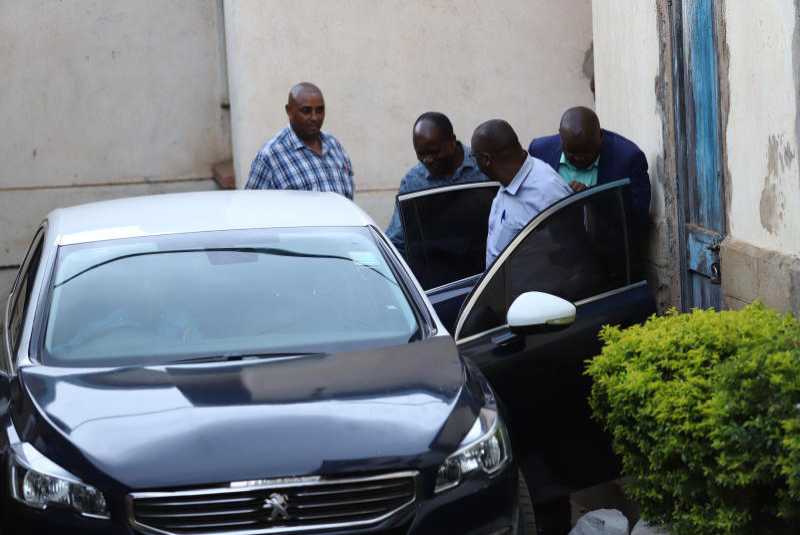 Migori Governor Okoth Obado was yesterday quizzed on his alleged relationship with slain university student Sharon Otieno.
Mr Obado flew from Nairobi to Kisumu to face detectives who pressed him on the nature of his communication with Sharon in a session that lasted more than eight hours.
The sleuths wanted to find out how long the two had known each other, the last time he had been in contact with Sharon and if he had anything to do with the events of September 3 when she was abducted and her mutilated body discovered the following day in a thicket in Oyugis, Homa Bay.
Police told the governor they believed or suspected his relationship with Sharon was the reason she was murdered. Police also asked Obado to state if he was responsible for Sharon's pregnancy. Sharon was seven months pregnant when she was killed.
But Obado, who was accompanied by his lawyers Cliff Ombeta and Roger Sagana, flatly denied knowledge of the murder and the preceding drama that reportedly had begun with the governor's personal assistant, Michael Oyamo, calling Sharon and Barrack Oduor, a journalist, to a meeting to resolve the pregnancy issue.
During the interrogation at the Kisumu Central Police Station from 10am to 6pm, the governor reportedly told police the claims were "strange and political in nature". He, however, admitted he knew Sharon but our source did not expound on what kind of relationship the governor said he had with Sharon.
Freed on bond
Obado also complied with a request to provide a DNA sample. Detectives from the homicide unit intend to compare the samples with those from the unborn child.
"They have asked for the samples but we are debating. We will see what next and let it be known my client is not under arrest," said Mr Ombeta.
The detectives also asked Obado to reveal when he last talked to Sharon, Oduor and Oyamo and what they spoke about. This information will be compared to call logs of all the people under investigation that is in their possession.
Officers aware of the probe said last evening they were not yet through grilling the governor. He was freed on a police bond and ordered to report back today.
"He has denied most of the claims and said these issues are political. Time will tell," said one officer.
Four prime suspects linked to Sharon's murder are still at large. A car that was used in ferrying Sharon to Kodera Forest where her body was found on September 4 is also missing. Police suspect it is in Nairobi or has crossed into Tanzania.
Oyamo, who was initially expected in court in Homa Bay, was freed from police custody and then re-arrested. He was driven to Kisumu, where he was briefly questioned before being bundled into another car. Despite insisting that he was also abducted, Oyamo had to give DNA samples for analysis.
Oduor, too, was summoned to Kisumu, where he was grilled for hours before being led into a separate car that was parked outside the DCI offices. Officials said he may be freed.
Officials indicated the case would be prosecuted in Nairobi or any other far-flung station for fear of witness interference and the suspects' general safety considering the heightened tension in Homa Bay and Migori.
Former Kanyadoto MCA Lawrence Mula was driven to Nairobi, where he is likely to face charges.
"The PA and former MCA are persons of interest and may face charges if and when the DPP agrees with our findings. We are not yet through with the governor," added an investigator.
Director of Public Prosecution Noordin Haji sent the head of murder division in his office Tom Imbali to guide investigators.