Disagreement looms over funds ward development projects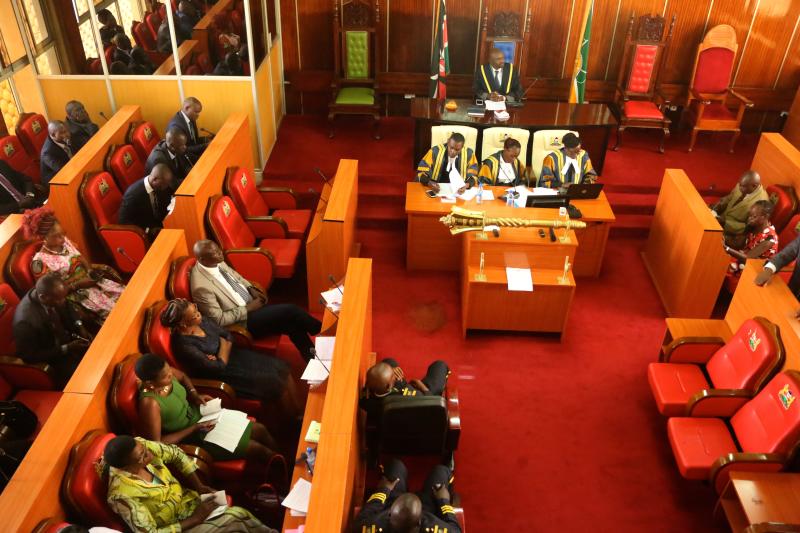 A showdown is looming between Members of the County Assembly and the Executive over allocation of funds for ward development projects.
The representatives from the 30 wards had demanded at least Sh30 million per ward, but the county government has budgeted an average of Sh19.5 million.
"We cannot allow funds for ward development projects to be reduced while projects that had earlier failed like solar lights installation in market centres are given huge allocations," said West Uyoma MCA Samwel Olasi, adding that they would not approve any figure below Sh30 million.
According to the draft budget, the total estimated expenditure for the 2018-2019 financial year is Sh7.12 billion. Eighty-five percent of the budget will be financed through national government transfers and the remainder will come from conditional allocations and local sources.
Recurrent expenditure is estimated to take Sh4.7 billion, which is 67 per cent of the budget, while development expenditure has been put at Sh2.3 billion.
Wards will get Sh558 million for development projects, which is Sh412 million less than what was allocated in the current financial year ending June 30.
Crucial amenities
Speaking to The Standard, Olasi, who is also a member of the Budget and Appropriation Committee, faulted the budget, saying that it was not clear which roads the county government had allocated money for maintenance.
According to Francis Otiato (Yimbo East), the Executive must prioritise crucial amenities instead of projects that have no benefit for the people.
"We cannot be allocating money every financial year for the construction of Siaya County Stadium, yet no work is taking place. We are aware that the contractor has been fully paid but the work has stalled," said Otiato.
His West Asembo counterpart Ambrose Akuno said he was going to mobilise his colleagues to reject the budget, arguing that it is imbalanced.
"We all pay taxes and we deserve equitable share of the county resources," Akuno said.
The West Asembo MCA, who is a member of the Tourism committee, described the rehabilitation of a fish multiplication centre in Yala at a cost of Sh6 million as unnecessary.
"It is illogical to establish a fish multiplication centre in a place where there is no lake. It would have only made sense if the centre was established either in Bondo or Rarieda," he argued.
According to the County Executive Committee member in charge of Finance and Economic Planning, Mr Joseph Warega, the budget complies with the Constitution and the Public Finance Management Act 2012.
"The programme-based budgeting was designed to shift focus from input-based budgeting to a result-based one in line with national and county government priorities," said Warega.