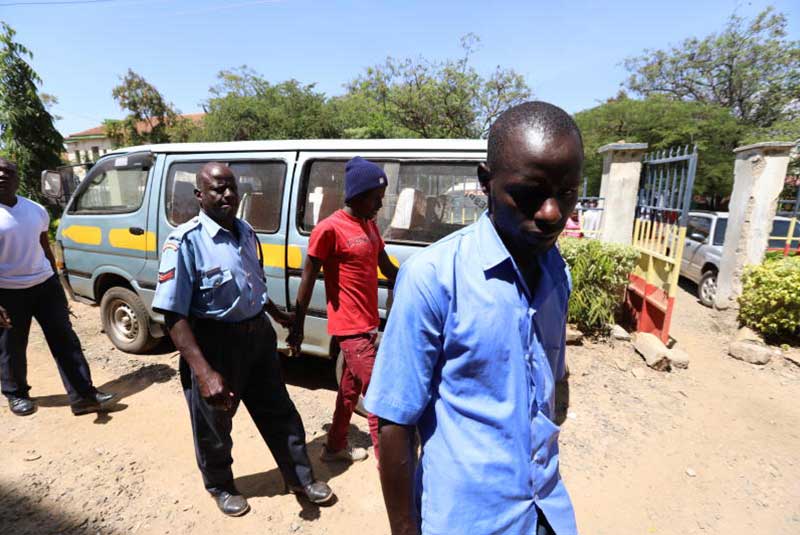 Police have arrested two men in connection with an incident in which a three-year-old boy was pushed out of a moving matatu.
National Transport and Safety Authority (NTSA) Nyanza Regional Manager Ezekiel Koech told The Standard police were tracking the vehicle since the matter was reported to Oyugis Police Station two days ago.
As the world celebrated Christmas, the minor was nursing injuries at Matata Nursing Home in Oyugis.
The child's story was broken by The Standard yesterday, sparking outrage from the public.
The minor, who was in the company of his mother, Serfine Omondi, suffered bruises on his face after he fell onto the tarmac at Othoro market after he was reportedly pushed out of a 14-seater matatu by a conductor on Monday.
Ms Omondi said they had signalled the conductor to stop the vehicle. It stopped briefly but sped off immediately before the boy could alight.
The mother added that as the boy fell on the tarmac, passengers started shouting at the matatu crew, but the driver did not stop.
Yesterday NTSA impounded the matatu reportedly owned by a police officer and arrested both the driver and conductor.
Mr Koech said the case was an example of the growing cases of crew mistreating passengers and other road users, adding that and that NTSA would cancel the licences of those found culpable.
"As NTSA, we will not condone such cases and we will ensure that culprits are brought to book," he said.
The officer noted that the duo, Steven Owiti, a driver and his conductor Anthony Otieno were taken to Oyugis police station and will be arraigned in court today.
However, Kamtco sacco officials gave a conflicting account of the incident but also admitted that controlling some crew was taking a toll on saccos.
Sacco board director Jeremiah Odera said this was an isolated case and that they were already investigating and denied that the vehicle belonged to a police officer. As at yesterday, the family of the child was yet to get the goods they lost.