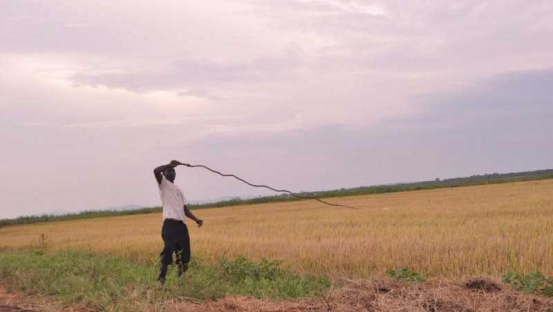 American company — Dominion Group — could be preparing to leave Kenya after 15 years of running a multi-billion farming project at Yala in Siaya County.
Group's Chief Executive Officer Calvin Burges has written letters to employees telling them of plans to close down the business.
On Saturday, the company's 350 workers from Siaya County were staring at redundancies following reports that Mr Burges said he was closing down from November 11.
In termination letters to the employees seen by Sunday Standard, Mr Burges said the company was suspending its operations due to a difficult business environment.
In the letter the company's CEO thanks employees for their dedicated service to the company.
"This is to notify you that Dominion Farms Ltd, will suspend its operations with immediate effect from 10 November 2017," read the termination letters.
It added: "This is because of the hard time the company has passed through and the difficult business environment existing in the country. We hope that the company will stabilise and reopen soon."
The workers had reported to duty as usual on Friday morning only to receive letters on the termination of their contracts.
This move has however left the workers in panic claiming that the company owes them accrued salary arrears of Sh350 million.
"We are yet to receive an official communication from the company on how we will be paid our salary arrears. We demand immediate payment of our salaries," said Fred Akula, a supervisor.
Social ammenities
Efforts to reach the Director of the Dominion Farms Company Chris Abir for comment, proved futile.
Yesterday, Akula said the labour relation law was very clear on the terms of terminating an employee's contract.
"As far as we are concerned the company can make this move upon clearing all its accrued benefits to employees. We will camp at the company's premises from Monday next week until all our dues are settled," said the supervisor.
Mr Akula said they had information suggesting that Dominion Company was closing shop to pave way for another company.
The Dominion Farms employees are now appealing for the intervention of the county government and local leaders. The firm, based in Siaya specialises in producing long grain rice, fish, and other agricultural products.