Kisii Cancer-Treatment Centre worth KShs2.1 billion to benefit millions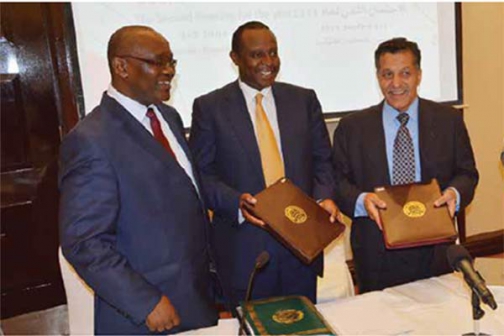 Kisii County is putting up an ultra-modern cancer treatment centre which will go along way in offering treatment services closer home. Cancer is a leading cause of death globally, and is growing fast in developing countries. Developing countries now account for over two-thirds of all cancer deaths.
Globally, cancer kills more people than tuberculosis, HIV and Aids and malaria combined. When doctors from India-based B.L. Kapur Specialty Hospital held a one-day free cancer screening at the Kisii Teaching andReferral Hospital (KTRH), over 1,700 people turned up and overwhelmed the doctors. Of those who braved the long queues to see the specialists, only 500 were screened, leaving many frustrated.
The specialists suspected 20 cases of cancer, while one was confirmed. These patients will have to travel to Kenyatta National Hospital (KNH) or overseas in search of treatment and care at very high costs.
This is the reality in many parts of Kenya. It is estimated that there are over 39,000 new cancer cases in Kenya every year, and the
World Health Organisation (WHO) reports that 27,000 of cases are from the western part of Kenya. KNH in Nairobi and the Moi Teaching and Referral Hospital (MTRH) in Eldoret can handle about 9,000 cases per annum, leaving the rest to private centres locally or abroad. Unfortunately, some patients resign to their 'fate' and wait to die.
Accessible and affordable healthcare is a constitutional right for every Kenyan, yet cancer treatment is not available to many, resulting in the 13,720 annual deaths, according to the 2014 Economic Survey.
Patients spend between KShs500 and KShs1,000 per session for radiothY at KNH, while chemotherapy costs between KShs6,000 and KShs600,000 depending on the drugs used. Compared to private facilities like Cancer Care Kenya, it costs about KShs50,000 a week for radiotherapy, and between KShs12,000 and KShs200,000 for treatment, depending on drugs used. This explains why we need more public institutions to offer this critical service.
Confronted by these facts, and in line with Governor James Ongwae's vision to bring health services closer to the residents of Kisii County, the county prepared a project document for setting up a cancer centre in Kisii. Our proposal caught the eye of the Arab Bank of Economic Development in Africa (BADEA), who together with the Saudi Fund for Development (SFD), agreed to co-finance the project to the tune of US$10 million each (KShs1 billion), while the Government of Kenya will contribute an equivalent of US$ 2.8 million (KShs280 million).
The loan agreement with BADEA has already been signed, but the SFD loan agreement is still being negotiated. Nonetheless, as we await the signing by SFD, the county has already identified a potential site, and set up a project implementation unit to oversee activities prior to the commissioning of the project that will be handed over to the Kisii Teaching and Referral Hospital (KTRH).
The cancer centre will serve an estimated 10 million people in Kisii, Nyamira, Migori, Homa Bay, Kisumu, Kericho and the Transmara region of Narok County. "This centre will transform healthcare service provision in Kisii and neighbouring counties. It will bring this critical service closer to the people and support Kisii University, with whom we have signed a Memorandum of Understanding for the establishment of a medical school at the hospital," says Governor Ongwae.
The project is set to commence by April next year and will take 18 months to complete. It will occupy 5,000 square metres of land and will be fully equipped with theatres, four examination rooms, mammograms, an observation ward, waiting rooms, lecture rooms, a control room, two shielded rooms for x-ray, CT Scanner, changing rooms for doctors and staff, an ICU with 12 beds, and patient wards with 40 beds.
The scope of the project includes detailed design and supervision, training and capacity building for medical staff. "The establishment of the cancer centre in Kisii County will boost early detection of the disease and reduce the cost incurred by patients who have to travel to Kenyatta National Hospital and even abroad for the service," observed said
Henry Rotich the Cabinet Secretary for National Treasury during the signing ceremony.Kisii University Vice Chancellor, Prof. John Akama, welcomedthe project, describing it as an innovative and strategic move by the County Government.
"Kisii University will benefit immensely from this project because we will use it in conducting various forms of research on causes of the rising incidence of cancer and how to create awareness on prevention. Through it, we shall attract specialists and funding from international partners," said Prof. Akama.
According to WHO, cancer incidences in Kenya have been rising over the past decade with western Kenya region recording 27,000 cases annually. Of these, 20,000 should benefit from radiotherapy, but many cannot access it, leading to deaths.
Common cancers are; cancer of the cervix, cancer of the breast, cancer of the prostrate, HIV related
Trump returns to hardline position on illegal immigration
Republican presidential nominee Donald Trump vowed on Wednesday that anyone who is in the United States illegally would be subject to deportation if he is elected, sticking with his hardline position after flirting with a softer approach.