Did Kisumu speaker Anne Adul use Sh3.6m to furnish house?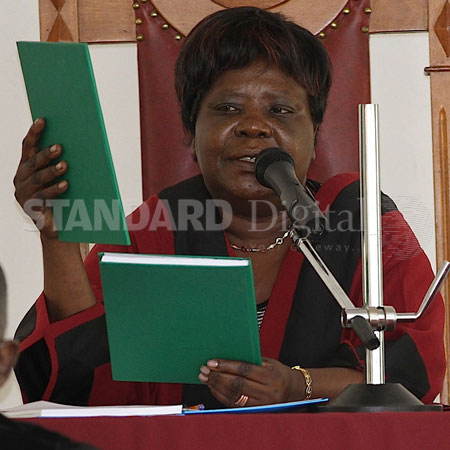 Kisumu County Assembly Speaker Anne Adul. [PHOTO: STANDARD/FILE]
BY RUSHDIE OUDIA
KISUMU: Four Kisumu County Assembly committees are investigating the speaker for allegedly using Sh3.6 million to furnish her house without approval.
The Public Investment Committee, Public Accounts Committee, Budget and Appropriation, and Delegation and Administration committees will investigate the speaker, Anne Adul, over the matter.
This came after a section of the MCAs raised questions on her expenditure of Sh3.6 million without the approval of the House.
MCA for Nyalenda A, Jacktone Onunga, said there are no documents showing that the Assembly Public Service Board members approved the cash for furnishing her house.
The board comprises the speaker, majority and minority leaders, the clerk to the assembly and one member.
"This is a serious offence. What the speaker did was un-procedural and abuse of office," said Mr Onunga, also the Deputy Chair for Delegation and Administration Committee.
This comes in the wake of another accusation against the speaker for having approved a controversial trip of 11 MCAs who will accompany three MPs to Germany this month.
In her response, Ms Adul downplayed the accusations terming them cheap.
She said as the executive head of the assembly, she is entitled to certain benefits including packages approved by the Salaries Review Commission (SRC).
Some of these privileges are having a chauffeur, security and official residence.
"All these are budgeted for and all that was done was simply to comply with SRC," said Adul. She said she has been looking for a house since March last year and when a suitable one was found it was furnished.
Adul said the board approved the leasing in the absence of an official residence for a State officer. "After approving the lease, there is no need for any approval for expenditure again," said the Kisumu speaker.
She said she would not appear before any of the committees since it is the clerk to the assembly to handle such matters.
Adul clarified that the planned trip to Germany will have three MPs and 11 MCAs go for a fact-finding mission on solid waste management project.