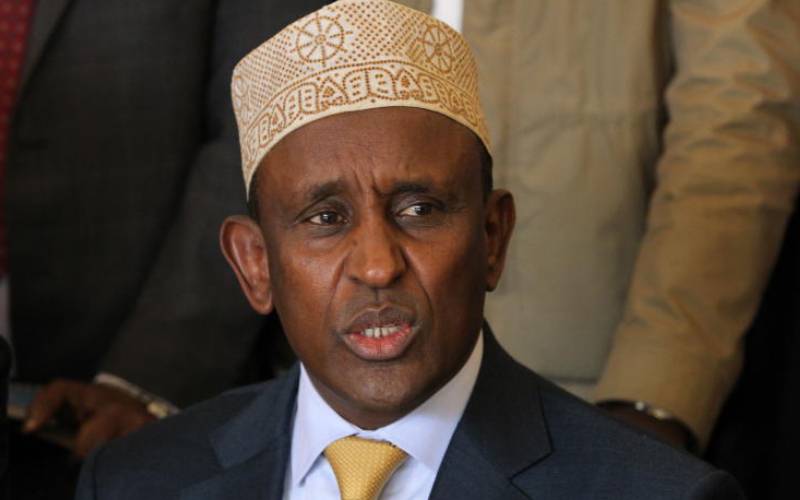 The anti-corruption commission has defended its move to charge Governor Ali Korane with conspiracy to defraud Sh233 million for road maintenance.
In a response to a suit by the governor seeking to stop his prosecution, the Ethics and Anti-Corruption Commission (EACC) stated that Korane cannot run away from his actions.
"It is clear that they had an elaborate scheme and criminal intent to defraud the county government and their attempt to return the money after we began investigations was an afterthought to conceal the corruption," said EACC.
The commission, through an affidavit sworn by lead investigator Justus Wangia, also denied the governor's claims that he is being persecuted for political reasons, stating that he failed to adhere to rules governing management of public resources.
The agency says Sh233,506,000 given to the county as conditional grant from the World Bank under the Kenya Urban Support Programmes was diverted to other projects allegedly used as avenues for swindling public funds.
"Money given as grant falls under ring fenced finances and cannot be reallocated. Their action resulted to gross violation of the conditions attached to the grant and led to mismanagement of public resources," said EACC.
The commission said the governor is abusing the court process by trying to stop his prosecution when he will have a chance to prove his innocence.
Korane and three county officials Abdi Bulee, Ibrahim Shurie and Ahmed Abdullahi were charged with eight counts of conspiracy to commit an economic crime, failing to comply with laws relating to management of public funds and misappropriation of public funds.
The offence is said to have been committed between February and September 2019.
The governor is accused of failure to comply with laws relating to management of public funds, while Shurie and Abdullahi are alleged to authorised the transfer of the money.