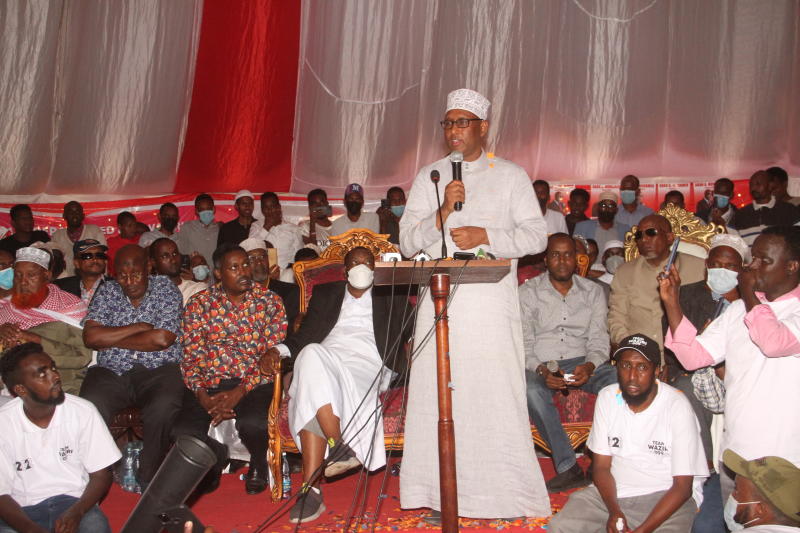 Former EAC Cabinet Secretary Adan Mohamed has launched his bid for the Mandera gubernatorial seat, with a promise to uplift the livelihoods of residents.
Speaking at the Sir Ali Muslim grounds in Nairobi, Mohamed said he chose to plunge into politics to take a front seat in the running of Mandera County affairs, and promised to use his experience to ensure development.
"After having worked for myself, for private companies in Europe, America, Africa and also being in government for the past nine years in different dockets, I feel it is time to take the talents home," said Mr Mohammed.
"I have had a lot of consultation with people in and out of Mandera County, including the President, a lot of my colleagues and even senior people. I saw that this is the time to work for my people," he added.
He, however, did not disclose which party he intends to use in his pursuit of the leadership position.
The former CS pledged to deal with issues such as access to water, infrastructure, youth unemployment, education, health and corruption.
"My emphasis will also be on decentralising key services from Mandera town to make sure everyone does not have to flock there when seeking government services, and to also ensure there is uniform development in the sub-counties," he said.
Adan also mentioned the drainage issue in Mandera County, saying it was a thorn in the flesh. He promised to fix the problem if elected.
"There are also issues of insecurity, which could undermine everything that is done in Mandera County. We must fix this problem jointly with the national government, and see how the communities can play their part in working with the national security agencies," said Mohammed.
Concerned that growing cases on youth unemployment and overdependence on the county government were putting a strain on the local administration, he pledged to ensure new ways were found to address the same and create an environment for youth to get into business.
To this effect, he said he would also ensure that at least 30 per cent of programmes in Mandera are undertaken by women and youth.
Bring back home
"Everybody has a chance that they are given. The privilege that they enjoy, the knowledge that they have, how they use it or deploy it is up to them. As for me, I am choosing to bring my skills back home," said Mohammed.
He joins four other contestants for the Mandera governor's seat, among them Education CAS Hassan Noor Hassan. Noor had also contested for the seat in 2017, but lost to the incumbent Governor Ali Roba.
Roba recently indicated interest in the local senatorial seat come August 9.
When Mohammed resigned a fortnight ago, he hailed President Uhuru Kenyatta for according him an opportunity to serve and providing exemplary leadership.
"I take this opportunity to thank His Excellency the President for the confidence he bestowed on me over the last nine years in his administration across the Ministries of Industry and Trade, Agriculture and finally at East African Community and Regional Development," Mohamed tweeted.