A month on, famine still ravaging Garissa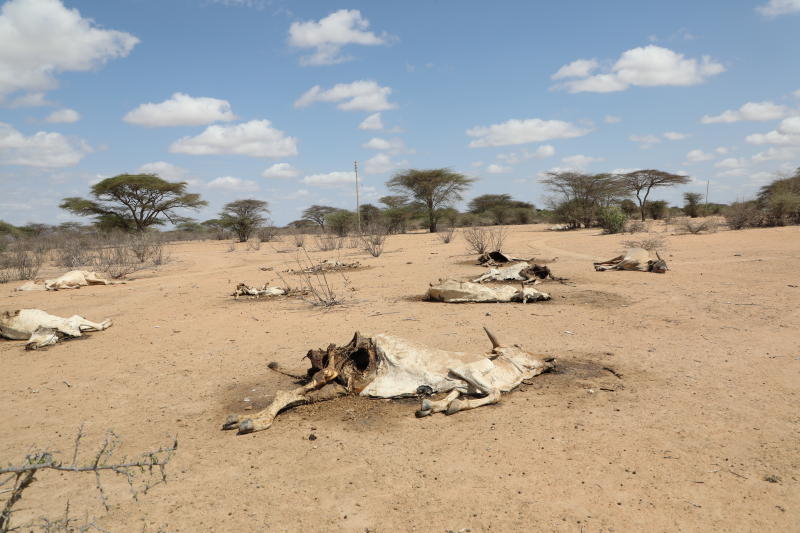 One month since President Uhuru Kenyatta declared the ongoing drought affecting parts of the country a national disaster, the government is yet to mitigate the effects.
Locals have now resigned to fate as the situation has become dire with many of them losing their only source of livelihoods, which is their livestock.
"Every day I lose two to three animals due to this drought. So far my family has lost about 50 livestock. We need urgent help," said Omar Aden Qassim a resident from Liboi.
What is worrying is that since the declaration on September 8, there has been no intervention from both the county and the national government as drought situation reaches unprecedented levels.
The National Drought Management Authority has painted a grim picture of the situation following the high number of livestock deaths across the region.
"We have been carrying out interventions such as water tracking and providing livestock feeds but because of the huge demands, our involvement has not been felt," said Garissa's National Drought Management Coordinator Abdinoor Dubow.
Local leaders are now appealing to international aid agencies to come to their rescue.
"There has been no help from the government despite the drought being declared a national disaster. We have lost a significant number of livestock and we need to move fast to avert losing people's lives," former Governor Nathif Jama said.
Jama asked the international aid agencies to come forward and helps families in need of food, medical supplies as well water and livestock feeds. The former Garissa Governor asked the Independent Electoral and Boundaries Commission to postpone the ongoing voter registration exercise as pastoralists are now grappling with effects of the drought.
Liboi Ward Representative Ahmed Bashir noted that if immediate interventions will not be available in the coming few days, many lives will be at risk.
He said the current drought situation calls for concerted efforts by all relevant government agencies and international donor agencies.