Farmers in Kieni receive solar powered boreholes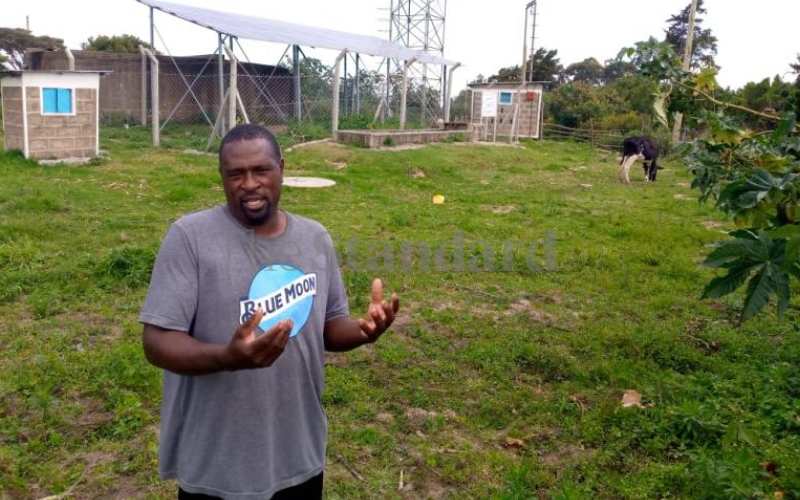 The scorching sun and dusty patches of land are synonymous with parts of the semi-arid Kieni in Nyeri County.
Residents have over the years seen the sun as a nuisance and hindrance to their efforts as they try to grow crops and make ends meet. But the sun has now become a blessing in disguise. This has been made possible by the game-changing idea of using solar power to pump water from some of the existing boreholes in the area.
Charles Muriru, a resident of Kiamathaga Narumoru ward, is one of the beneficiaries from water pumped from the nearby Morisho dam, which is solar-powered.
Muriru, a farmer, has decided to grow a newly-introduced flower called Geranium. He pursued the venture after some foreigners set up shop in Narumoru and encouraged farmers to grow the crop, which they buy from them. Geranium is used to produce perfumes.
Though he was initially challenged by lack of water, since solar panels were installed at Morisho dam, Muriru is able to irrigate his crop daily. He has also increased the land under irrigation from a quarter acre to three quarters.
"It was a pleasant surprise that the sun, which has previously discouraged farmers, has turned out to be a solution to our water problem."
The solar panels were installed by the Rural Electrification and Renewable Energy Corporation (REREC) in conjunction with the county government.
According to Mwangi Gichuki, the chairman of Muriru dam management committee, since the borehole was fitted with solar panels, it is able to pump 15 cubic litres of water per hour. So far, 14 boreholes in Nyeri County have been fully fitted with solar panels, serving more than 3,000 people.
"We worked with REREC under a programme called the matching fund. That means that we contribute some money and REREC supports us by contributing a similar amount in an effort to fit our boreholes with solar," said Mutahi Kahiga, the Nyeri governor.
REREC manager on Alternative Energy Jonathan Butu says it intends to fit an additional nine boreholes with solar panels in the next three months.