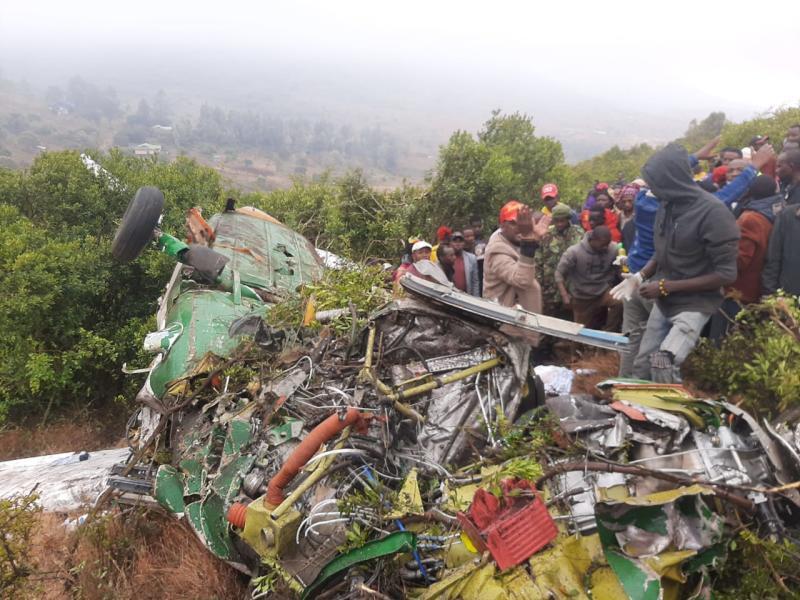 A pilot and his co-pilot died yesterday in a plane accident at the notorious Kofia Mbaya hill in Marsabit town.
The light aircraft crashed on the hill where former Cabinet minister Bonaya Godana, Assistant minister Mirugi Kariuki and 12 other leaders died in a military plane crash in 2006.
Police said the aircraft had been hired by the Marsabit County Government to ferry officials to a meeting in a remote village in the county.
Police signal said Wolde Wesa, the acting Marsabit County Secretary, reported at 10am that he had lost communication with the pilot of the Cessna aircraft registration number 5Y-JKN 208, which had left Wilson Airport in Nairobi at 8.18am.
Shortly thereafter, police received information that the plane had crashed at the Mount Marsabit Shrine area, about eight kilometres from Marsabit town.
Marsabit County police commander Samwel Mutunga said the aircraft crashed as it tried to land.
Upper Eastern Regional police commander Noah Mwivandah dismissed rumours doing the rounds on social media that the plane was ferrying Kenya Certificate of Primary Education examination papers to Marsabit.
Unidentified persons
He said the plane had a label "Mwalimu" on it, but it did not belong to the Ministry of Education and had not been contracted to airlift examination papers.
He said the plane was going to pick up unidentified persons in Marsabit town, and fly them to a meeting in Illeret in Loiyangalani ward, Laisamis Sub-County.
Fog usually envelopes Marsabit town early to mid-morning, severely reducing visibility around Marsabit airstrip.
Others who died in the 2006 accident included legislators Dr Guracha Galgalo (Moyale), Abdi Sasura (Saku), Titus Ngoyoni (Laisamis) and Abdullahi Adan (East African Legislative Assembly).