Police probing Garissa County Assembly fire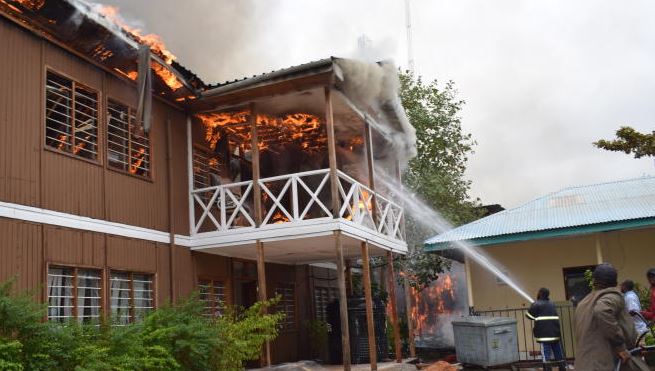 Police in Garissa have started investigations into what might have caused the fire that consumed part of Garissa County chambers and several offices.
County leadership including Speaker Ibrahim Ahmed Abass were holed up in a meeting in the better part of today to discuss the next course of action.
The fire brigade from Garissa fire department was joined by the military to battle the huge fire that the official said consumed 40 percent of the premises.
The cause of the fire that started at the Hansard side of the chambers at around 8 am on Thursday could not be immediately established, but assembly leadership suspected an electric fault.
The fire was so intense that it rapidly consumed the entire adjacent offices for the staff and assembly members.
County Assembly clerk Mohamud Santur who was at the assembly with several MCAs said they could not immediately ascertain the damage but confirmed that the assembly chambers were completely destroyed.
"We are still battling with the fire but I can say it has consumed 40 percent of our infrastructure, we are also not sure of the cause but we will leave that up to the police and other relevant departments," he said.
Santur said most of the important documents were salvaged from the offices saying an assessment will also be done to ascertain the degree of damage.
Both leaders of Majority and Minority Mohamed Gabow and Mohamed Ali respectively described the fire as unfortunate saying its damage will take long to recover.
Mr Gabow called on authorities to immediately start a probe to establish the cause.
The minority leader said activities of the assembly have completely come to a halt since the fire consumed the chambers.
"All business of the assembly is now in jeopardy, we can no longer conduct our business as usual because the fire has destroyed all important offices," he said.
The wooded offices that housed auditors, committee meeting boardrooms, member's offices, Hansard offices, committee clerks, researchers amongst others were also razed.
The speaker's office and that of the assembly clerk were spared as members of the public joined in salvaging documents from other offices.