Refugee repeated class eight times to join Masinde Muliro university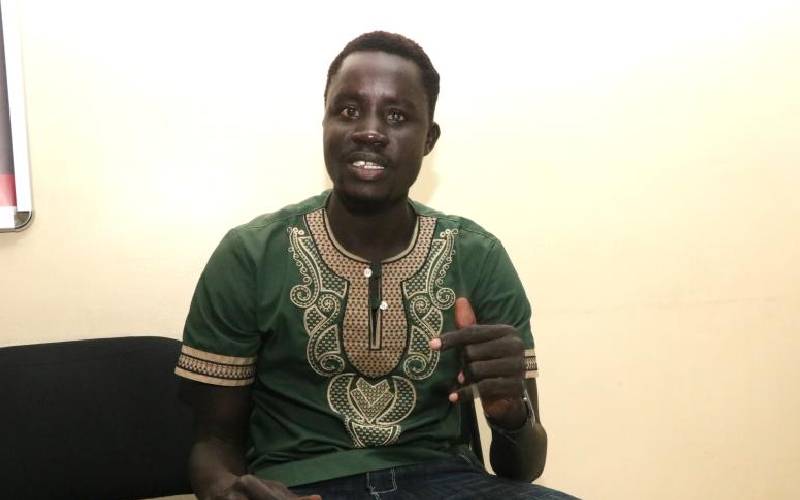 Determination and zeal could as well be his middle name. His story is that of resilience and hard work, and many at the Kakuma Refugee camp testify so.
While others may overlook the essence of education in their life and not give their all, Peter Lidu, 28, knew at a very young age that it matters most.
Having fled the civil war in his motherland, South Sudan, at the age of six, Lidu has scaled the mountain literally in pursuit of education.
In a show of exceptional resilience, he spent nine years in high school, five more than is expected.
Unlike other learners who opt to repeat a class, Lidu was compelled by circumstances. His was a case of bidding time to secure a scholarship, some day. Finally, lady luck smiled on him when the Dafi (Albert Einstein German Academic Refugee Initiative) scholarship programme offered him an opportunity to join university.
Hard work
Dafi sponsors refugee students to an undergraduate degree in their country of asylum. Lidu is among more than 500 other Dafi beneficiaries in Kenya.
Mary Nzioki, a monitoring and evaluation officer at Dafi, describes Lidu as a hardworking young man whose zeal to succeed is incomparable.
"Lidu worked hard to secure the scholarship and he continues to give back to the society by teaching in his free time. The early struggles in his life have never been a deterrence," says Nzioki.
Pascal Lukosi who taught Lidu at Mogadishu Primary School in Turkana County, describes him as disciplined and focused.
"At Kakuma refugee camp, Lidu needs no introduction. He is held in high esteem here, a hero to his peers and other refugees. He does a lot and has earned respect," Lukosi says.
The teacher says he noticed Lidu's unique character before he joined Lodwar High School.
"Despite the many challenges he faced, Lidu remained focused. He is very good in mathematics and usually teaches other kids in his spare time. We are proud of him," said Lukosi.
On arrival at Kakuma when he was only six years old, Ludi was enrolled at Horsee Refugee Primary School before he proceeded to Kakuma Secondary School.
But Lidu had to wait until third term before reporting to school due to cataracts, a rare eye condition, which almost blurred his dreams of education.
"My eyes started paining, doctors said the flashes from a grenade back in South Sudan could have damaged my eye. They recommended a procedure referred to as corneal graft. The affected left eyeball was to be removed and replaced with that of a goat," he says.
Hoping to restore the affected eye, doctors put him in a dark room for five months but the situation got worse.
The procedure to replace the eye would cost Sh400,000, money Ludi didn't have. "I just gave up on it. Now I rely on my right eye."
When a chance came to join Kakuma Secondary School, the bad eye didn't matter. "I beamed with joy, but lack of school fees forced me to drop out."
Hopes of going back to school were fast fading away. Ludi had nowhere to run to for help, and when he was about to give up, a former primary school teacher, Mark Ukello, came to his rescue.
"He was godsend, he offered to pay school fees and other expenses. I moved to five different schools, and this affected my performance," Lidu says.
In his first attempt, Lidu scored grade D+ in the Kenya Certificate of Secondary Education (KCSE).
Bleak future
"Scholarships were a reserve for refugee students who scored C- and C+, so I resorted to teaching at the camp as a volunteer between 2011 to 2012. I spent Sh6,000 I earned on my school fees," says Lidu.
He then enrolled in Form Two at Kakuma where he scored C- in 2014. Lidu would later join Lodwar High where he obtained a B- and was awarded a scholarship.
The now fourth year student studying disaster management at Masinde Muliro University of Science and Technology says he refused to give up even when the future looked bleak.
Still, memories of the chilly morning Lidu and his family were torn apart by the war in South Sudan remain fresh in his mind.
More than two decades later, Lidu recalls everything, the ordeals he suffered in the hands of the militia group, the killing of his siblings and the fear in his mother's eyes when they parted.
Lidu, the fifth born son in a family of 10 boys, says he has been through hell and back, but is confident of picking up the pieces.
"Slowly, I have started to heal. It is not easy though; the trauma and difficulties I had to go through at Kakuma refugee camp were overwhelming," he told The Standard.