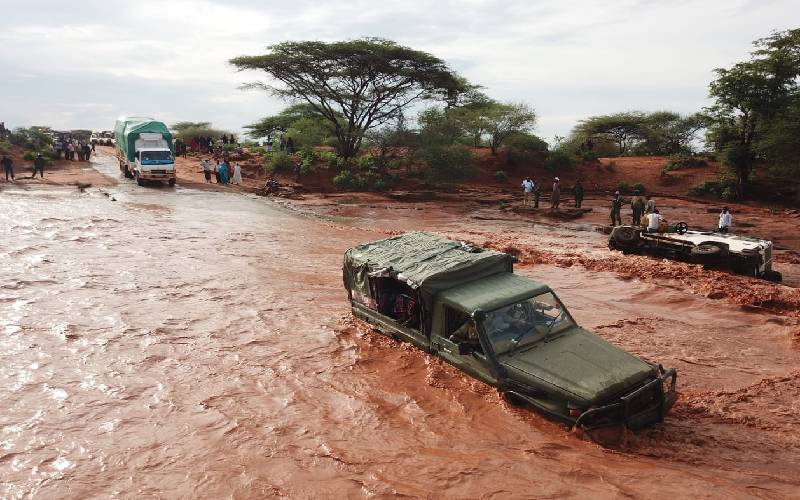 Frontier Counties Development Council (FCDC) has hailed President Uhuru Kenyatta for successful negotiation after the World Bank granted Kenya Sh81 billion loan to upgrade the 750-kilometre Isiolo-Mandera Road and lay the fibre optic cable.
In a statement sent to media houses, FCDC chairman and Mandera Governor Ali Roba said the project dubbed the Horn of Africa Gateway Development Project (HoAGDP) will be President Uhuru's biggest legacy project for the most deserving population.
Roba said once realised, the project will bring down the cost of living, cut down journey times, and enable trading and investment beyond the North.
He said the project will also create trading opportunities for Central and Eastern Kenya farmers who will be able to supply fresh farm produce to northern Kenya.
Read More
"The project will improve living standards, reduce widespread poverty in these counties and create job opportunities for the youth," he said as he thanked World Bank for the loan.
Electricity
Roba appealed to the government to now connect the region to power to enable to fully exploit the project.
"Our appeal now to the government is that with the transport corridor underway with its fibre optic network, they should now connect the region to the electricity grid," he said.
Roba thanked FCDC pioneer governors who started the initial negotiation fo the project, adding that the efforts have borne fruits.
"I would like to thank pioneer Governors of FCDC Ahmed Abdilahi (Wajir), Nathif Jama (Garissa), Hussein Dado of Tana River, Issa Timamy of Lamu, Ukur Yattani of Marsabit and Governor Doyo of Isiolo for their initial successful lobbying efforts for this project."
Kenya's World Bank Country Director Keith Hansen said the upgrade is aimed towards improving the movement of people and goods, digital connectivity and access to social services for over 3.2 million people living in the North-Eastern region where the Isiolo-Mandera Regional Road Corridor traverses.
"The World Bank will finance the upgrading of 365 kilometres of the 740-kilometers Isiolo-Mandera Regional Road Corridor and 30km of spur roads, while the upgrading of the remaining sections will be financed by other development partners," he said in a statement.
The loan will finance the HoAGDP which will help in the laying of a fibre optic cable along the entire 740-kilometre corridor with spurs to local communities.
Hansen said the upgraded road, the fibre optic connections, and the provision of basic social services will attract investments, facilitate regional and domestic trade, create jobs, and improve information sharing and access to internet-based opportunities.
"This investment envisioned as a backbone project under the North and North Eastern Development Initiative, will contribute significantly to the government's efforts to ensure shared prosperity," said Hansen.
The project which the first in a series of projects aimed at supporting the development of regional transport corridors and modal linkages under the Horn of Africa Initiative will take six years to complete.