Mandera law courts closed over insecurity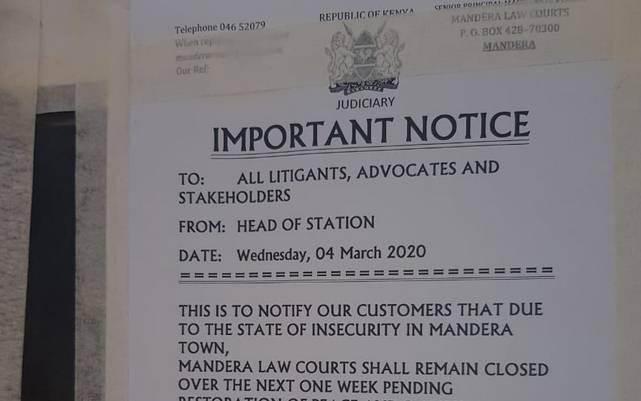 Mandera law courts have been temporarily shut over fears of insecurity stemming from the recent attacks in Bulla Hawa, Somalia.
According to a notice from the Mandera law courts shared by County Governor Ali Roba, the courts will be closed for 10 days to allow normalcy to return.
The notice has urged litigants, advocates and other stakeholders to be patient as security officers work to restore peace in the region.
The notice read: "This is to notify our customers that due to the state of insecurity in Mandera town, Mandera law courts shall remain closed over the next one week pending restoration of peace and security."
Public services have been hampered due to the prevailing security situation in mandera. pic.twitter.com/A5mufndVGv

March 5, 2020
Earlier on Thursday, Governor Roba claimed that security forces drawn from Somalia's Jubaland were advancing towards Mandera town and posed a threat to the region's security.
"Jubaland security forces moving right inside Mandera town on Bulla Jamhuria Road, near the central chief camp, by the Huduma Center. This is a major threat to the security of Kenyans in Mandera. The government must move with speed to mitigate this situation or risk more loss of lives," he said in a tweet.
"The situation in Mandera is deteriorating by the day with more buildup of foreign forces of Jubaland within Mandera Town and serious buildup of Federal Government of Somalia forces in Beled Hawo," he added.
Yesterday, President Uhuru Kenyatta sent a strong warning to the Federal Government of Somalia for staging attacks in Mandera town and threatening and harassing Kenyans living in the area.
A statement from the State House released after President Uhuru chaired a special session National Security Council meeting on the matter lamented Somalia's conduct on March 2, when her security forces attacked the region.
A statement from State House read: "The National Security Council noted with concern the violations of Kenya's territorial integrity and sovereignty by the Somalia National Army on March 2, 2020; where the foreign soldiers in flagrant breach and total disregard of international laws and conventions engaged in aggressive and belligerent activities by harassing and destroying properties of Kenyan citizens living in the border town of Mandera."
"This action amounts to an unwarranted attack by foreign soldiers with the intention of provoking Kenya. In keeping with our long-standing and distinguished tradition in peacekeeping and peacebuilding in the region and beyond and in particular – in Somalia; Kenya acted with total restraint."
On Monday, the day of the attack, Inspector General of Police Hilary Mutyambai rubbished claims that attacks spilled over to Kenyan soil.
"We wish to reassure Kenyans that security teams are on high alert to avert any attempts by militants in Gedo region straying into the country," he said, as he reassured the country that security officers were on surveillance to repel any act of territorial violation.
Reports indicated that the Somalia forces from the Federal Government were searching for Jubaland minister Abdirashid Janan, who is considered a fugitive.
Amidst heavy gunfire, the residents of Mandera endured fear as the attacks resulted in the jamming of mobile networks in the region, after the military interfered with Safaricom communication mast.