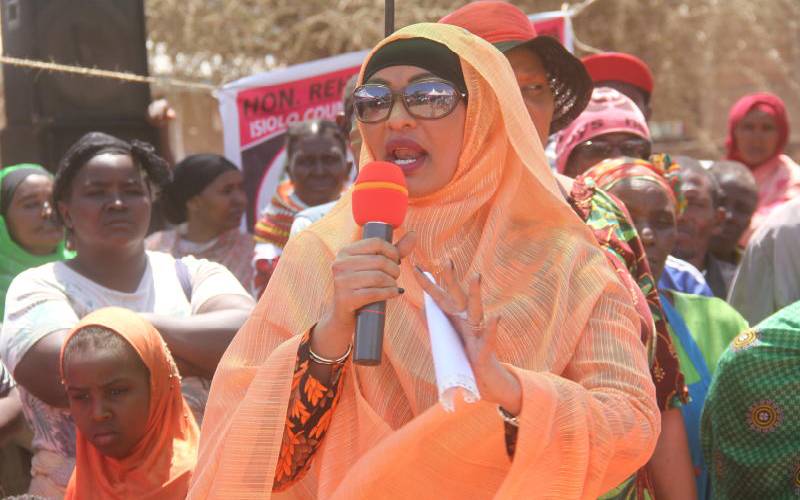 Hundreds of families in Isiolo Central and parts of Meru are worried after the military ordered them to vacate the land they occupy or face eviction. In Isiolo Central, the Department of Defense (DoD), on behalf of the School of Infantry (SOI), gave residents a 30-day quit order last Thursday, which expires on October 11. Failure to comply, they were warned, would mean forceful eviction. Residents in Ngaremara and Gambella locations were also warned to leave by the army's School of Artillery, 78 Tank Battalion (along Isiolo-Meru border) and School of Combat Engineering (SOCE) in Isiolo. The eviction letter from the principal secretary, State Department of Defence was addressed to the principal secretary, Interior and Coordination of National Government who sent it to Isiolo County Commissioner Joseph Kanyiri.
SEE ALSO: Rising water level forces out businesses on Lake Baringo
It was read to residents by assistant County Commissioner Julius Marwa last Thursday. Residents neighbouring the SOI had previously been given quit orders in 2005, 2008 and 2015. In the last two previous encounters, soldiers used bulldozers to destroy farms and buildings. Following protests by residents in 2005, then SOI commandant Nicholas Bartonjo told a meeting chaired by former Isiolo DC Waweru Kimani that the army acquired a title deed for 10,665 acres on January 1, 2000 with a lease for 99 years. The army set up a camp in the area in 1980. Hundreds of residents led by Ngaremara MCA Ekwam Teru and his predecessor Peter Losu sought audience with Marwa last week.
SEE ALSO: Covid-19: Popular Meru town meat joint shut after staff test positive
Original map
They wanted the SOI, 78 Tank Battalion and SOCE to restrict their activities to locations bordering Isiolo and Meru counties as shown in the original map. The protesters were drawn from Kiwanja, Epinding, Gambella and Ramadhan, among others locations. Mr Losu and activists Joseph Kalapata and Osman Dima who led the protests said despite intervention by the Senate Committee on Security that met elders from communities in Isiolo and Meru in May last year, the matter remains unresolved. The committee, led by Garissa Senator Yussuf Haji, had told community leaders in 2017 that the tussle with the army over their land would be discussed and an amicable solution reached.
SEE ALSO: Claims of abortion, rape, rock police unit
Residents from the two counties had urged the team, whose membership includes Isiolo Senator Fatuma Dullo, to prevail on the DoD to move activities out of their land. The locals claimed the SOI had increased their claimed acreage three-fold, saying the Isiolo abattoir and livestock holding grounds would also be affected. Nearly 30,000 people living on the western bank of Isiolo River would be rendered homeless should DoD effect the eviction order. Other affected areas include Elsa, Kakili, Maili Saba and Bules Dima in Burat ward. Farms along Isiolo River that are being irrigated would have to be abandoned while structures targeted for flattening include six primary and two secondary schools, mosques and churches as well as development works undertaken by NGOs like Action-Aid, Danida and the Catholic Church. Joseph Juma, an agro-pastoralist living along the banks of Isiolo and Lewa rivers, said he was living in fear of eviction from Kakili village. The 71-year-old man, who owns an 11-acre farm he inherited from his father, recalled when villagers welcomed the army to the area in 1980. "We believed then that they would help us build schools and hospitals, but I regret welcoming them. Their presence has instead caused us untold suffering due to abandoned military hardware and defilement of our girls and women," said Juma. Huka Godana, 53, said his family was given notice ten years ago to vacate their eight-acre homestead to pave way for the expansion of the army's training ground. "My family was displaced in 2008 and is now homeless. The soldiers did not even allow us to harvest maize, beans and kales from the farm," Mr Godana said. Isiolo Woman Representative Rehema Jaldesa asked the military to move elsewhere, saying the land under dispute belongs to the residents. "Isiolo is surrounded by four military camps that are encroaching on settlement areas. When they came here, they did it illegally. The locals will not go anywhere from their ancestral land," she said at Elsa on Saturday. Back in 2005, DoD Spokesman Bongita Ongeri dismissed the residents' claims, saying the Kenya Defense Forces had a title deed for the property that was bought by the State for military use. During the second evictions in 2015, Chief of Defense Forces General Samson Mwathethe met former Isiolo Governor Godana Doyo and an agreement reached to resolve the matter amicably. Efforts to get a comment from DoD were not successful.