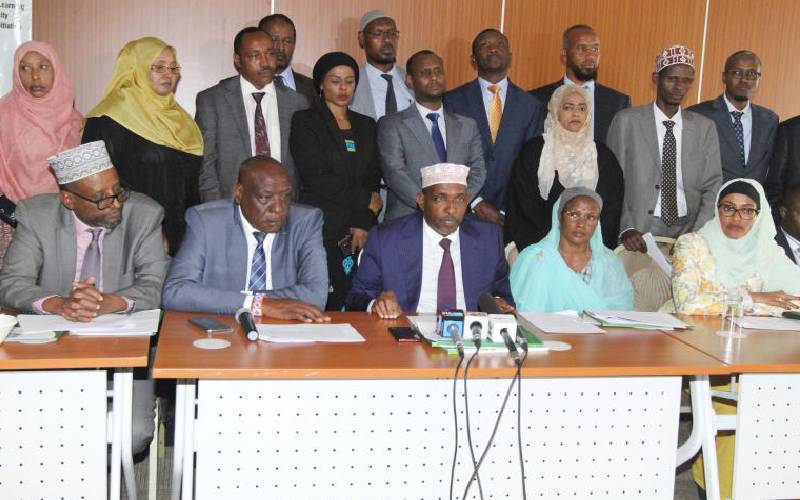 Lawmakers from pastoralist communities have issued a famine alert warning that their constituents might miss out on the forthcoming population census.
The leaders said a ravaging drought had forced many residents to migrate to neighbouring countries in search of pasture.
National Assembly Majority Leader Aden Duale appealed for food and water for drought-stricken areas following failure of April-May long rains.
"We ask the national and county governments, and international donors to come to the aid of the people affected by the drought by providing food, water trucking and livestock off-take programme," said Duale.
He said Kenya National Bureau of Statistics (KNBS) should consider allocating more time for census in the region.
"As we speak today, some of our people have crossed to Somalia, Ethiopia and South Sudan in search of pasture and water. KNBS must tell us what it is doing to address the unique situation in northern Kenya while conducting the census exercise," said Duale.
The appeal came at the backdrop of a report by a State agency that the number of people facing food shortage was likely to hit 2 million this month.
According to a report by the National Drought Management Authority (NDMA), the figure is an increase from 1.6 million people that faced food shortage in May.
Some of the most affected areas are Turkana, Marsabit, Isiolo, Samburu, Wajir, Garissa, Tana River and Tigania West.
"More households now face acute food insecurity levels. In the pastoral north-west, households are in both crisis and emergency food insecurity phases," says the report.
Speaking under the banner of Pastoralist Parliamentary Group (PPG), the MPs said the situation was dire and required urgent response.
"We are concerned about the current drought, something needs to be done fast. We are appealing to the Government to intervene and provide water and food," said Samburu North MP Alois Lentoimaga.
He said failure by the Government to respond to the needs of the starving families may affect the census slated for August 24 and 25.
"We also call upon non-governmental organisations and United Nations agencies to assist us," said the MP, who is also the chairman of the PPG.
He called upon governors in the region to allocate funds for emergency foods and water supplies.
Isiolo Senator Fatuma Dulo said learning in a number of schools had also been affected adversely by the drought.
"I know there is a budget under NDMA and the fund should be operationalised so that people living in northern Kenya can benefit from it," said Ms Dulo.
Isiolo County Women Rep Rehema Dida Jaldesa called on President Uhuru Kenyatta to declare the drought a national disaster and change census dates. "I also request that the census be done in consultation with all stakeholders. It is not a must that it be done in August, when our people have migrated in search of pasture," said Jaldesa.