Three terror suspects now surrender after notice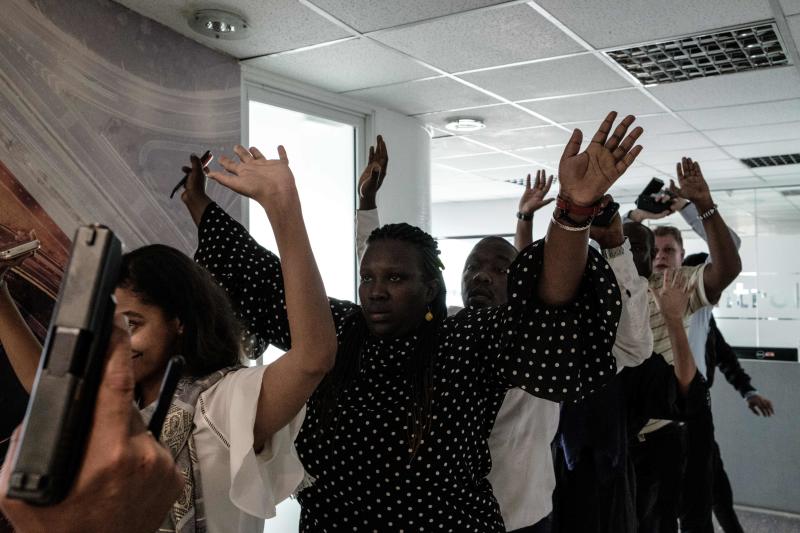 Three of the four wanted men who surrendered to the police yesterday had visited Somalia.
However, Didu Mohamed Fugicha, Boru Abdi Bidu and Ramadhan Wario Bonaya protested their innocence in connection with the latest terror attack in Nairobi when they presented themselves to the Anti-Terrorism Police Unit in Isiolo, a day after the police released their photographs among six wanted suspects.
The three were reported to have travelled to Somalia but their parents, who accompanied them yesterday to the Isiolo offices of ATPU and the Directorate of Criminal Investigations, said they had been around and had not committed any crime.
One of the parents agreed that his son had travelled to Somalia in 2016.
''Yes, I told the police my son had travelled to Somalia to join Al Shabaab but he came back later," the old man from Tullu Roba estate on the outskirts of Isiolo town told The Standard yesterday.
"We have reported that our children, including mine, had disappeared and today we are here. I had reported to police that he went away (Somalia)," said another parent who only identified himself as Adan.
Another suspect is the son of a wealthy Isiolo politician.
In Nairobi, Nelson Ndirangu Maina's family said it was surprised to see his face published in local dailies among those wanted by police under the name Gaddafi aka Munene after the dusitD2 terror attack.
The Tiles and Carpets Centre driver was not aware that his picture was circulating on social media until he reported to work.
Wanted by police
His brother, John Wambugu Maina, said he called him and informed him he was at the office where he had learnt that he was wanted by police.
John told The Standard he did not understand how his brother ended up on a list of the most wanted terrorists and with a name that was not even his.
"We received news of my brother being on the list of the most wanted people in the morning. At first, I tried reaching him but I couldn't, but he later called me and told me that he was at work, where his colleagues had told him that he was in the newspapers. I advised him to surrender to the nearest police station since he is innocent," said John.
He said his brother reported the issue to his bosses, who advised him not to leave the company premises.
"When my brother told his bosses about the issue, they advised him not to leave the premises, but I believe they called the police, who came and arrested him. We have gone to the CID headquarters to look for him but they told us that he was not there and we should check at the station in Upper Hill near Kenyatta National Hospital. We have not seen him and we are hoping to find him at the station that we have been directed to," John added.
The family found Nelson at the anti-terrorism police unit headquarters, where he is being held and has recorded a statement.
Lorry driver
Around 2008, he was a loader at Lacheka Lubricants, Bandari Road in Industrial Area. He later joined JimCab Taxis as a driver before he left for Tile & Carpet, where he is a lorry driver.
The Sanghrajka family, the owners of Tile & Carpet (his employer), are also the owners of the 14 Riverside Drive complex, which was attacked by terrorists last week.
A police officer said they want Nelson to help clear some issues. He told the police he had never left the country.
Police were looking for eight men who reportedly went to Somalia and returned. Their whereabouts were yet to be known, which prompted the circulation of the photographs.
In Isiolo, sources said the fifth suspect, Abdi Ali Kanchora, and his family were reportedly travelling from a remote village to the town to record a statement.
Didu Mohamed Fugicha, Boru Abdi Bidu and their parents were the first to go to the police. Ramadhan Wario Bonaya was also being probed by ATPU.
The three are now in police custody.
Top Isiolo County security officers were silent on the evolving events, but sources from ATPU said they were probing the suspects to find out whether they had participated in the dusitD2 hotel attack or had any information about the raid in which 21 people were killed.
Top national security officers led by ATPU teams had been deployed to Isiolo and Marsabit to hunt accomplices of the terrorists who raided the upscale hotel and office complex last Tuesday.
Somalia-based Al Shabaab militia has claimed responsibility for the attack.
Ali Salim Gichunge, who has been identified as the mastermind of the 14 Riverside Drive attack, hails from Kulamawe estate in Isiolo town. He is believed to have been killed following last Tuesday siege.
The officers, who arrived in Isiolo late last Saturday, were reportedly pursuing suspects linked to terror attacks in Kenya.
Gichunge attended Hekima Primary School before his father transferred him to 78 Barracks Primary and Secondary School. He later moved to Thuura and Kibirichia Boys schools for his secondary education. He scored 357 marks in KCPE examination and a C+ at secondary level.
He was reportedly 'radicalised' and travelled to Nairobi, Mombasa, Garissa and Kampala in Uganda.
He was a footballer and rugby player, according to his friends.
According to intelligence sources, he had a Bachelor's degree in Islamic jurisprudence from Kampala International University in Uganda.
Gichunge was the second born in a family of five children. He worked at a cybercafé in Isiolo town between January 2014 and May 2015.
The first born accompanied her mother to Nairobi while one of the sisters is in secondary school. At Kulamawe, neighbours are the taking care of Gichunge's two other siblings who are in primary school.
Yesterday, Isiolo DCIO Raphael Wawire said ATPU officers were in Isiolo to follow up on the probe on the terror attack in Nairobi but declined to give details.
The ATPU source said the officers would be in Isiolo and Marsabit.
"We will look into many issues, like analysing the background of the children who travelled to Somalia to be trained by Al Shabaab," said the top intelligence source.