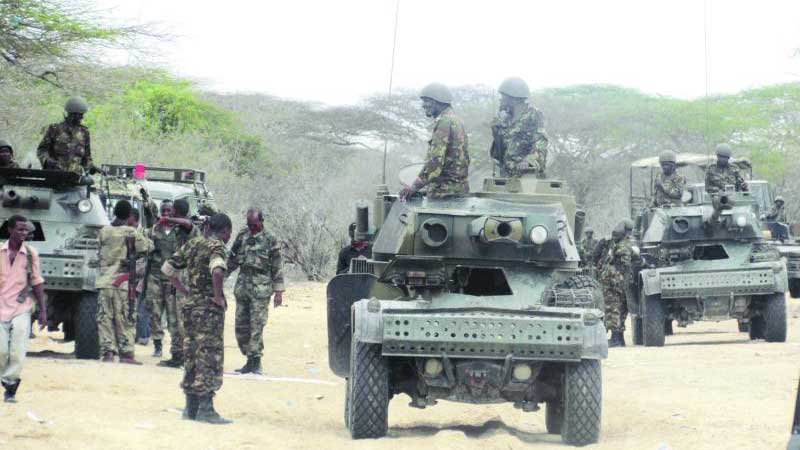 A lawmaker wants the National Assembly to immediately withdraw Kenyan troops from the war-torn Somalia.
Mandera East MP Omar Mohamed – in a petition signed by resident of the border Constituency – says continued stay of Kenya Defence Forces has exposed the country to sporadic and sustained attacks by the Al Shabaab terror group.
Mohamed says the maiming and killing of Kenyan security forces in the operation has emboldened the terrorists thus beating the intention of restoring peace in the neighbouring country.
"The National Assembly do resolve and recommend the immediate withdrawal of Kenya Defence Forces from Somalia and their re-deployment along the border of Kenya with Somalia," reads the petition.
"The number of terror attacks have therefore continued to increase, and it is time that Kenya withdraws her troops from Somalia and deploys them along the border to protect Kenyans," adds the petition.
Read More
The MP further wants relevant Parliament's departmental committees to undertake investigation of the adverse effects the attacks have had on communities residing along Kenya's border with Somalia.
"The National Assembly do resolve and recommend that the National Government extends the Amnesty program for returnees to cover all affected counties and the country in general," adds Mohamed.
He said that Garissa, Mandera, Wajir and Nairobi counties have borne the greatest brunt of the terror attack, with Kenyans residing along the border, from Lamu to Mandera being the most affected by the terror attacks.
He wants the soldiers to be deployed to man the country's borders instead of being in Somalia.
"By redeploying the Kenya Defence Forces to our borders, the government would be able to utilize Technology to augment KDF and police service efforts, which we believe would better deter and defeat terrorist activities within our borders," adds the petition.
KDF troops entered Somalia under the aegis of "Operation Linda Nchi" on October 14, 2011 in pursuit of Al Shabaab terrorists who had been entering Kenya at will to abduct and kill aid workers and tourists in North Eastern and Coast.
This latest petition comes at the backdrop of a scheduled plan to withdraw the troop from Somalia in two years according to timelines drawn by the United Nations Security Council.
According to the United Nations Security Council Resolution 2372 (2017), Kenyan troops will leave Somalia in December 2020 after mentoring Somali security forces to take over control from Amisom.
And at least 200 Kenyan troops were last withdrawn from Amison as part of its share in the 1,000-man strong force in the drawdown authorised by the UN Security Council while another 200 KDF troops are scheduled to withdrawn from Somalia by December.
Data from the National Police Service indicate that Kenya has suffered at least 155 terror related attacks since the deployment.