Isiolo Governor Godana Doyo released on Sh1m bail after denying corruption charges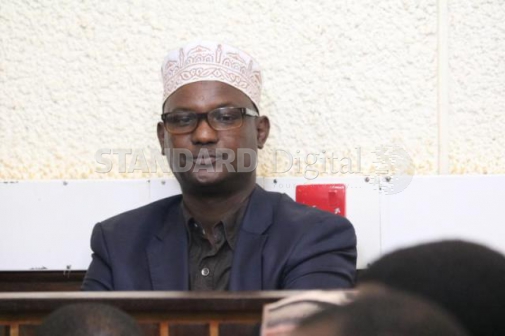 Isiolo Governor Godana Doyo yesterday took plea in an anti-corruption case facing him, two MCAs and a county assembly assistant clerk.
Mr Doyo appeared in the anti-corruption court with his wife and a few supporters, a day ahead of the date issued by the court last Monday.
Doyo denied three counts of committing an economic crime and was released on a personal cash bail of Sh1 million or a bond of Sh4 million and a surety of the amount.
He denied approving a false and misleading Isiolo Supplementary Appropriation Bill and improperly conferring a benefit of over Sh3.3 billion on the Isiolo County Government on December 11, 2014.
The offence was allegedly committed in conspiracy with MCAs Devid Lemantile (Deputy Speaker), Abdi Sora Balla (Chairman of the Budget and Appropriations Committee) and Assistant Assembly Clerk Boru Jirima who pleaded not guilty last Monday.
He also denied failing to comply with the law in incurring public expenditure jointly with the other three on the same date through improper approval of the supplementary budget without the participation of the county assembly.
improper benefit
The governor also pleaded not guilty to charges of abuse of office through conferring an improper benefit of Sh3,302,417,755.40 by assenting to the bill, which had not been debated and approved by the assembly.
Principal Magistrate Bernard Ochieng, sitting in the anti-corruption court, said it made sense to release the governor on the same terms as the other accused and justified the terms on the basis of the public interest in the case.
He rejected an application by Kithi, Kiogora Mugambi and Ken Muriuki to delay hearing of the case until a constitutional court makes a ruling on an the application by the defendants.
"They are seeking a declaration that the anti-corruption case is unconstitutional and we feel the court is entitled to make a declaration in its own wisdom," said Kithi.
But the State through Meru County Head of Public Prosecutions Evans Onderi opposed the application, saying the application in the High Court had been overtaken by events and they should proceed to take the earliest available hearing dates.
The magistrate rejected the application saying there were no High Court orders barring the case from proceeding and fixed the hearing for three consecutive days from March 23.