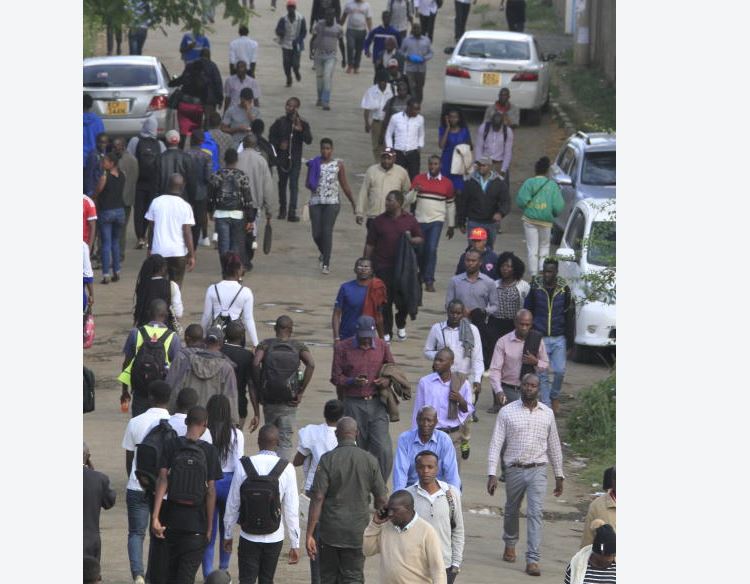 Public service vehicles returned to the roads yesterday after their one-day boycott.
Yet, in spite of the relative normalcy, some traders who rely on public transport to move their goods were suffering.
At the Railways bus stop in Nairobi yesterday, dozens of such traders were unable to find matatus as operators refused to carry passengers with multiple or heavy luggage.
Noel Ingasia, 43, was in a group of women who huddled over heavy grocery baskets and gunny bags. She stood out, not just because of her loud complaints, but also the frustrated look on her face.
"I have been here since 6.50am," Ms Ingasia told The Standard at 10.30am.
The pregnant mother of one has for the entire year maintained her routine of coming to the city centre from Kawangware each morning.
But the past two days have taken a toll on Ingasia because of the crackdown on PSVs.
More than 120 people have been charged with various traffic offences in the ongoing enforcement of the 'Michuki rules' in Bomet.
County Police Commandant Naomi Ichami termed the crackdown a success, saying most operators had complied.
In the North Rift, there was evident increase in compliance with traffic law, but travellers had to grapple with fare hikes.
The chairman of the Eldoret matatu owners' association, Michael Kiplagat, told passengers to resist attempts by crews to overcharge them.
In Kitale, Trans Nzoia Cunty, fares to various destinations rose as the crackdown intensified.
Previous fares
Passengers from Kitale to Kisii were asked to pay Sh1,800, up from the previous fare of Sh800. The fare between Kitale and Eldoret increased from Sh200 to Sh400.
In Kakamega, many motorists were charged with flouting traffic rules. According to court records, 40 offenders were arrested.
In Nyanza, the few vehicles on the roads hiked fares, leaving many passengers stranded.
In Mombasa, county police boss Johnstone Ipara said most PSVs had not complied with the regulations.
[Gloria Aradi, Gilbert Kimutai,Titus Too, Stephen Rutto, Osinde Obare, Jack Murima, Bernard Sanga, Mishi Gongo, Nehemiah Okwembah and Hassan Baris]