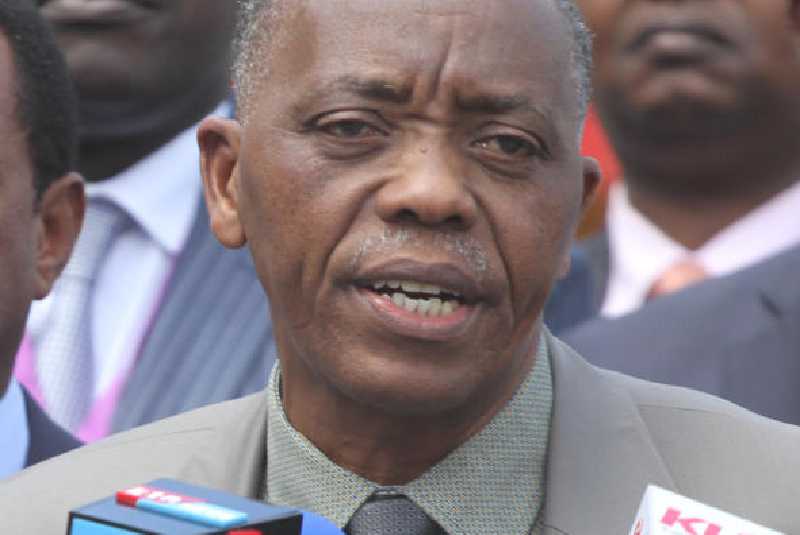 The more than 1,000 procurement and accounting officers who had been sent on compulsory leave to pave way for a lifestyle audit have been cleared to resume duties.
Majority of the officials have already received their letters to report to work, while others are awaiting communication.
This is after Head of Public Service Joseph Kinyua (pictured) wrote to all accounting officers, Principle Secretaries and CEOs of State corporations, instructing them to reinstate the officers who were sent home five months ago.
Only 54 officials from the group are yet to receive any communication after several inconsistencies were found in their documents.
"A decision as to whether to fire or reinstate them will be made in due cause," an official aware of the goings-in in the process told The Standard.
The first batch of officers reported to work last Monday while those still at home are expected to report by next week. "I have already written to my officers to resume work immediately," a PS said after Kinyua's directive.
Received circular
The PS said that he had received a circular from Kinyua with a list of officers who had been cleared and directed to notify them immediately. Several other CEOs also confirmed that their officers were back.
From the over 1,000 who were sent home, only 12 officers are said to have requested to retire instead of facing the panel but were overruled.
"Kinyua asked them to return to office then commence the formal process of retiring in line with their contractual terms so that it is not linked with the exercise," the source added.
The Head of Civil Service is also said to have thwarted a plot by some powerful forces within the presidency to influence which officer is reinstated and which ministry to report to after directing that those affected must be reinstated in their stations.
The move is a reprieve for many officers who were facing uncertainty, after they over stayed their initial 30-day leave which had entered the fifth month. The confusion had contributed to economic crisis in the country given that their absence had paralysed government procurement and payment processes.
Officers who had been appointed on acting capacity were hesitant to conduct any procurement nor process any payment since they do not hold such powers.
"I'm now back in my duty station. It's a big relief," an officer in one of the infrastructural ministries told The Standard.
In July, the High Court delved into the matter by declaring part of the Kinyua circular on payment of salaries to officers who are not offering any services null and void.
Justice Byram Ongaya declared that the mass suspension of the public servants and paying them at the same time was not only unconstitutional but adverse on taxpayers.
"The Court finds that the circular offended Article 47(1) which provides that every person has the right to administrative action that is expeditious, efficient lawful, reasonable and procedurally fair," Justice Ongaya ruled in a case filed by activist Okiya Omtatah.