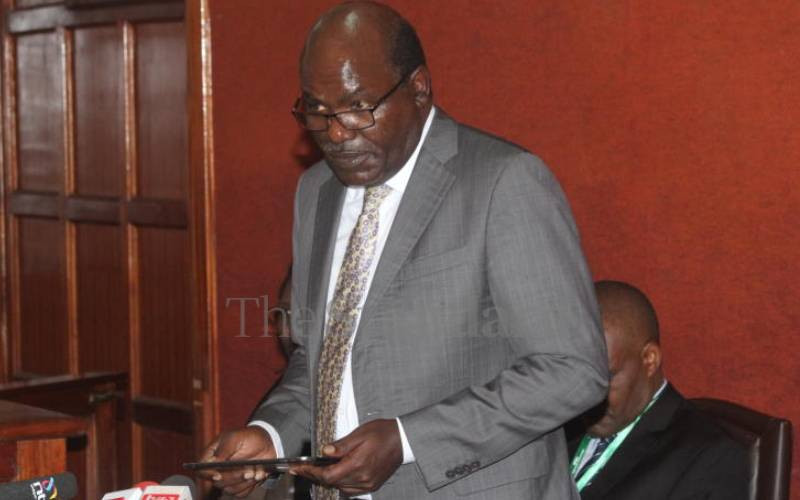 With nearly a month to the general election, the mystery surrounding illegal voter transfer remains unsolved.
Voters who are still grappling with non-consensual transfer from their original polling stations are pointing an accusing finger at the Independent Electoral and Boundaries Commission (IEBC for failing to address the issue
One such voter, Abdalla Malala, is distraught after he found out on Tuesday that his details were illegally transferred. The 48-year-old, who was initially registered in Nairobi, discovered during a coincidental social caucus that he is a registered voter in Mandera County.
"A small crowd had gathered and were conversing about the verification of their registration status. I got curious and inquired about how the verification process was done. One volunteered to check mine, and that is when he told me that I was registered in Mandera," said the shoe shiner at his workstation near Jamia Mosque.
According to Malala, IEBC is at fault because he has never transferred his voter registration details.
Malala noted that he has always voted in the same polling station, Ndururuno Primary School in Mathare, Huruma Constituency.
"How am I supposed to vote now that I am registered nearly 1,000 kilometres away?" said Malala.
According to IEBC regulations formulated in 2017, a transfer can only happen after a voter makes a formal request. This can only be done from the constituency headquarters.
On request, the voter is then given a form to fill before a registration officer effects the transfer. Interested individuals must have an original ID card and its copy, which ought to be left behind for records purposes.
Registry review
IEBC came under fire in June after it was revealed that about one million voters were illegally transferred to other constituencies
The revelation forced the commission to conduct a registry review.
According to IEBC chief executive Marjan Hussein Marjan, the review was to ascertain that only voter transfer requests with accompanying documents signed by the voter were accepted.
"We have been receiving complaints and we're trying to analyse whether these complaints received during the verification process are legitimate or not. We have come across some we think that forms may not exist and that is why we decided to do a full check," said Marjan in an interview with NTV.
Citizens were further urged to verify their details. The deadline has, however, elapsed.
Despite the elapsed deadline, Malala said the electoral body should find means to include him, and others, who might also be in the same predicament.
"IEBC needs to find a way to sort this issue because I have a right to vote like everyone else. I am certain that I'm not the only one with irregularities," he said.
Registration details can be confirmed via sending a text message to 70000 or by visiting the Commission's portal.