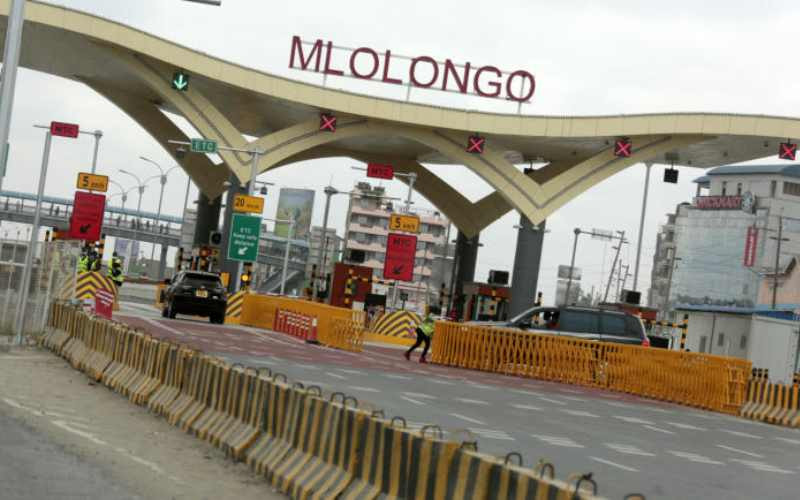 Ministry of Transport has temporarily banned Public Service Vehicles with a capacity exceeding seven passengers from using the Nairobi Expressway.
The ban comes a day after over 20 passengers were injured when a 32-seater matatu they were travelling in lost control and rammed into a Prado at the Mlolongo Toll Station.
In a press release published on Wednesday, Transport CS James Macharia says the move is to give the relevant authorities time to investigate the cause of accidents on the highway.
"The Ministry of Transport has, therefore, taken the decision to temporarily restrict commercial passenger vehicles with a capacity of more than seven passengers from using the Nairobi Expressway, as we investigate the cause of these accidents and develop appropriate safety measures," CS Macharia's communication read in part.
"This restriction takes effect immediately,"
The ministry has also committed itself to install rumble strips to warn drivers to slow down as they approach various toll gates as well as enforcement of speed limits.
"The Nairobi Expressway is clearly marked with the speed limits that are applicable to its various sections. All motorists are required by law to adhere to the stipulated speed limits," Macharia has said.
"In this regard, we have, in collaboration with the Inspector General of Police, installed speed cameras to enhance the enforcement of speed limits. Further, the traffic police will henceforth be stationed at various locations along the expressway, including toll stations,"
The Macharia-led ministry has also reiterated strict adherence to traffic rules, failure to which one risks a jail term of a fine of Sh100, 00 as is stipulated by the law.
The expressway was opened for public use on a trial basis on May 14, by President Uhuru Kenyatta. At the time of making the announcement, the president said the trial was to give the experts time to improve on its shortcomings if any.
However, two months into the trial, more than two accidents have happened on or close to the road.
Yesterday, a PSV vehicle toppled next to the expressway exit in Kangemi.
Two days before, a matatu lost control at the Mlolongo toll station, injuring over twenty passengers.
Prior to that, a personal car also lost control and climbed other vehicles waiting to be served at the toll. The accident injured many, including the attendant at the toll.
One person died.
The accidents elicited mixed reactions as Kenyans poked holes into the incidents which happened in under one month.