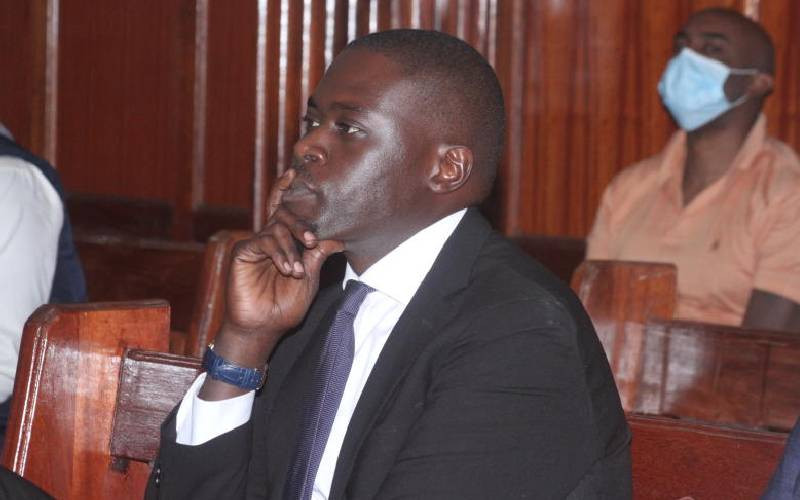 The electoral commission yesterday told the court that it is not required by law to verify whether aspirants have submitted authentic documents before clearing them.
While urging High Court judge Anthony Mrima to dismiss a case filed by Dennis Wahome against Nairobi Senator Johnson Sakaja, the commission argued that it could not revoke Sakaja's clearance even after the authenticity of his documents was questioned. The senator has expressed interest to vie as Nairobi governor on a UDA ticket.
Independent Electoral and Boundaries Commission (IEBC) lawyer Eric Gumbo said the agency believed Sakaja presented an authentic certificate from Team University in Uganda.
"The third respondent had no constitutional or statutory obligation to verify the authenticity of the fourth respondent's degree certificate. Further, provided the degree certificate on the face of it, the fourth respondent presented a prima facie valid certificate. The third respondent had no power to investigate the authenticity of the degree presented," argued Gumbo.
In the case, Wahome's lawyers Paul Nyamodi and Njoki Mboche argued that IEBC's tribunal erred by shifting the burden of proof.
According to Nyamodi, the tribunal ought to have taken Wahome's list that did not have Sakaja's name and that which the senator provided, and determine who between the two had a genuine document.
Nyamodi said IEBC's acceptance of Sakaja's papers was a mockery to the electoral process as it ought to ensure only those who meet the requirements set by the Constitution and Elections Act are on the ballot.
The senior lawyer argued that the degree certificate produced by Sakaja to be cleared for Nairobi governor contest pre-dates his declaration to Jubilee when he was being cleared to vie for senator's seat in 2017.
Sakaja's lawyer Elias Mutuma argued that his client's case was similar to a scenario where a polygamous man attends a feast accompanied by one wife.
"If a polygamous attends a party with one wife and introduces that wife, does it mean he is monogamous?"
"Does failing to disclose he had a degree from Team University in 2017 mean Sakaja does not have a degree?" paused Mutuma.
Sakaja's other lawyer Duncan Okach questioned the source of the documents submitted by Wahome in court. According to him, Wahome never disclosed where he got the graduation list from and the Jubilee's declaration papers.