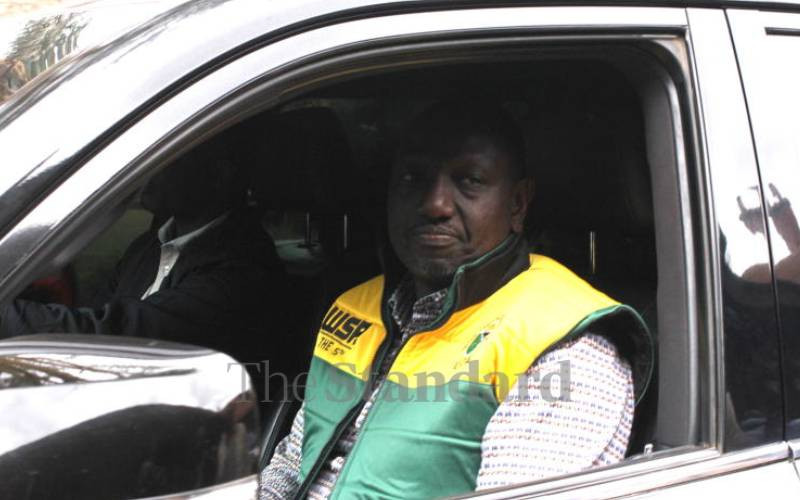 Deputy President William Ruto has urged the court to dismiss a case filed against him, seeking to force him out of office.
Michael Kurungia, who claimed that Dr Ruto has not been playing his role as the Deputy President and has been using State resources to campaign for his 2022 bid under the United Democratic Alliance (UDA), filed the case.
In Kurungia's court papers before High Court judge Anthony Mrima, he also stated that DP has been using his residential home for United Democratic Alliance meetings.
However, while urging the court to dismiss the case, Ruto's lawyer Elias Mutuma stated that since 2013, when President Uhuru Kenyatta and Ruto, were elected and their subsequent re-election in 2017, DP has been carrying out his constitutional roles and carrying out assignments assigned to him by Uhuru.
"The respondent (Ruto) has throughout his tenure of office wholeheartedly and expeditiously carried out his mandate as stipulated in Article 147 of the Constitution of Kenya, 2010, which tasks are as mandated by the constitution and allocated by the President," argued Mutuma.
He continued: "The respondent is the Deputy President of the Republic of Kenya, having been elected by the Kenyan citizens via secret ballot in 2013 and 2017 respectively. He has at all times been a law-abiding citizen true to his word and carrying out his constitutional mandate as the Deputy President of the Republic of Kenya."
According to Ruto's lawyer, his term in office will only end after the election adding that the only way to have him out is through impeachment in Parliament. He asserted that the court is being invited to carry out a role that it does not have powers. Mutuma is of the view that the case seeks to impede the functions of constitutional office holders.
"We submit that the proceedings herein are flawed and unsustainable in that the honourable court is being invited to issue orders which would amount to an infringement of the concept of separation of powers as the matters at hand being the question for the removal of the Deputy President from office is a business expressly reserved for the Legislative arm of the Government," said Mutuma.
He termed Kurungia's case as an abuse of the court process and an academic exercise. In his case, the petitioner has urged the court to bar Ruto from using the residential home for his political parties meetings. At the same time, he sought to have DP to be removed from office.
However, DP in his papers argued that Kurungia has not provided evidence for his allegations.