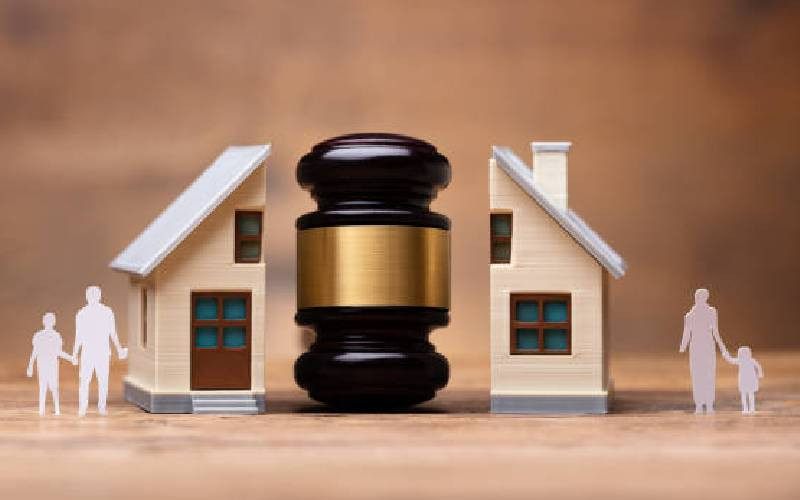 Women who jointly own property with their husbands are not entitled to half of the wealth once they divorce, a court has ruled.
Court of Appeal judges Daniel Musinga, Mohamed Warsame and Asike Makhandia ruled that marriage does not guarantee one equal share of property.
The judges noted that the woman and the man should get a share depending on what they contributed towards acquiring the assets.
"Joint requisition of property cannot be equated to equal ownership. That is a legal fallacy which is not supported by evidence. The correct position is that the properties should be divided based on the contribution of each party once their marriage is dissolved," ruled the judges.
The judges made the decision in case where a Muslim woman who divorced her husband for converting to Christianity lost her claim to their matrimonial home and properties currently valued at more than Sh100 million.
Mona Hussein Duale wanted full control of their two maisonettes in Nairobi's upmarket Kilimani but the Court of Appeal judges thwarted her attempts and gave control to her estranged British husband Paul James Savage.
The judges ruled that Mr Savage will get 70 per cent of the family wealth while Ms Duale will get 30 per cent, which is equivalent to her contribution towards purchasing the properties.
"When a couple agrees to share their lives in a joint home, they do so on the basis of mutual trust, love and affection and in the expectation that their love will endure all trials and tribulations. But when the unexpected happens and they separate, it is only just that each gets what they contributed," they ruled.
Mr Savage and Ms Duale told the court that they met in 2003 while he was working for a non-governmental organisation while she was working at the United Nations.
Because of the love he had for her, Savage agreed to convert to Islam after which they solemnised their marriage before a Kadhi in November 2003 under Islamic marriage laws.
However, their marriage broke down in April 2008 after Mr Savage changed his religion from Islam and petitioned the High Court for a divorce which was granted in May 2009.
The couple submitted that in 2005 they agreed to purchase the property in Kilimani which had the two maisonettes at a cost of Sh30.5 million. The couple decided that the main maisonette would serve as their matrimonial home while the smaller one would be given to their relatives.
Mr Savage argued that since he did not have a Kenyan account, he had instructed his employer to pay his salary through Ms Duale's account from which they pooled together the money to purchase the property.
"He trusted her completely to hold their shared finances without reservation for most of the duration of their marriage," the judges stated.
However, after their divorce, Ms Duale denied that the former husband contributed much in purchasing the home, and that she is the one who pooled her resources including a donation from her father.
The judges ordered Ms Duale to vacate the main maisonette within 30 days failure to which she will be evicted.