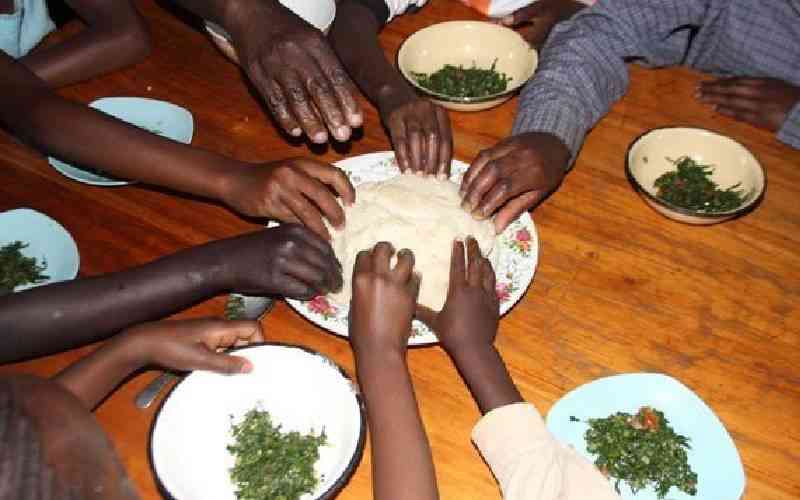 Where's the public backlash against soaring cost of food and basic goods?
It is inordinately strange that the cost of living is not the campaign agenda for any of the formations in the upcoming national elections. To the best of my recollections, not a single political leader has come out forcefully to articulate the menace of high cost of basic goods and services ravaging households from within. This is unlike the unga revolution clarion call that had threatened to tear apart the TNA/URP administration, forcing them to act swiftly by allowing duty free maize and capping the price of a 2kg packet of maize floor at Sh90.
Equally appalling, the citizens themselves do not seem bothered that neither their elected government nor those gunning for the top-most seat in the land have found it right to identify with their plight. In the circumstances, it is extremely difficult to figure out what informs choices of folks in electing political leaders in the country. In many other functional democracies, such phenomena would be catastrophically costly to anyone presently in office or associated with those in power.
Here, the two leading presidential candidates are either current office bearers or are intimately connected to those in power. Yet, they have proposed nothing tangible about what they intend to do to alleviate the suffering of the people both in the short or medium term. On its part, the ruling administration has given the whole issue a wide berth, hoping it will blow away on its own. Not surprisingly, the National Treasury has declared it intends to end fuel subsidies without taking measures to suspend taxes that constitute the highest burden at the pump. Thus, by all intents and purposes, we are on our own-both individually and collectively-as the hoi-polloi.
Troubled world
Almost all economic-growth tracking agencies project that global growth will slow to about 3.6 per cent down from over six per cent last year. The big economies that drive global consumption are experiencing one of the worst inflations in recent history. For example, the United States, which accounts for about 15 per cent of the global gross domestic product and over one-third of world consumption, raised its benchmark interest rate by 0.75 per cent to tame inflation. This is the highest single rate increment since 1994 and comes weeks after another raise of 0.5 per cent in May that was also the highest in 22 years.
In the United Kingdom, thousands of people took to the streets to protest their government's inaction to tame the high cost of living. Elsewhere in Europe, Germany, Netherlands and Austria plan to go back to coal power after Russia cut natural gas supplies to the region. The impact of these actions in the advanced economies is to increase cost of financing for businesses and limit access to credit for households.
While Investopedia.com estimates that it takes about one year for huge Federal rate increment disruptions to have widespread impact on the economy, the stock markets responds almost immediately. But worse still, consumers tend to reduce consumption disproportionately compared to the actual impact. This is partly due to the fear and uncertainty that it brings. In the domestic front, the NCBA revised its projection for local economic growth to 4.9 per cent, down from 5.2 per cent it had projected in April.
With the National Treasury having given the clearest indication it will end fuel subsidies, it is only a question of time before pump prices breach the Sh200 per litre mark-just like maize flour. The Central Bank adjusted its base lending rate by 0.5 per cent, signaling the return of higher cost of credit in the coming days. This means that businesses shall not be able to review their salaries and wages to compensate consumers for the lost purchasing power.
Failed rains
To put matters into perspective, last Sunday a petrol attendant told me that these days 'hakuna jaza tank' when I stopped to refuel. During the same week, I passed by my watch maintenance/supplier guy at Jamia Mall in town and found him with a friend lamenting how high ugali prices are hurting most people and leaving them without options. While they seemed aware that people can diversify to bananas, cassava, millet and other options as staples, they concluded that the failed rains have deprived the masses of such a window. Personally, I have lost my entire maize crop for two consecutive seasons now, and the next crop will not be until March next year, hoping the short rains behave better from October.
Faced with these realities, the fair question to ask is: what options do individuals and households have given the government's clear signals not to intervene?
Chilling truth
The chilling truth is that we will be stuck in the rut for several months unless the incoming administration opts to change the 'highway policy' stance currently in place. Unfortunately, none of the candidates has expressed any persuasive intent to act once they assume office. As clearly articulated here, it is obvious to any keen observer that the government is cornered in the fiscal space. In fact, the increased tax revenues they are raking in from the high pump prices seem like a most welcome reprieve to the macro-economic policymakers.
There are, however, some basic and practical measures that folks can take to navigate the turbulent times ahead both at the individual and household levels. One is to remember the first rule of survival in the animal kingdom: that is, self-preservation. As things get tougher, it is natural for everyone to look inward first and foremost before thinking of others. While this may sound un-African based on our traditions, the reality is purse strings are only going to get tighter. Thus, it becomes everyone's individual responsibility to watch their own backs.
Don't stop saving
Two, while it looks practical to dip your fingers into your savings or stop saving regularly, I would strongly advise against going that route. As prices of basic commodities increase, building resilience means expanding ones income base. Your savings become the surest viable vehicle given that employers won't be opening their purses, either, and businesses suffer from depressed consumption. Government is likely to continue raising interest rates on Treasury securities to tame inflation. This offers a perfect opportunity to create some decent return on your savings.
Three, the priority should be to cutting on consumption expenditure and waste. The UNEP Food Waste Index Report of 2021 indicates that every Kenyan throws away an average of 99 kilogrammes of food every year. Cumulatively, this translates into about 5.2 tonnes of food wasted in a year in the country. In another report in October 2020, FAO projected that Kenya loses about 30 per cent of the food produced after harvest, which is estimated to be worth Sh76.8 billion annually. Twenty per cent of this is lost at the farm level while 60 per cent is lost at the marketing level. If each one of us takes individual responsibility for this waste, we could save ourselves several days-worth of rations.
Four is to plan with the medium-term in mind. It is clear we are going to be in this for several months to come. It is time to actualise those kitchen gardens to grow our own vegetables and utilise open spaces in our compounds. Domestic waste water can grow beans and maize as we wait for the rains. Finally, it is now sacred for everyone to go slow on social events, entertainment and black taxes.