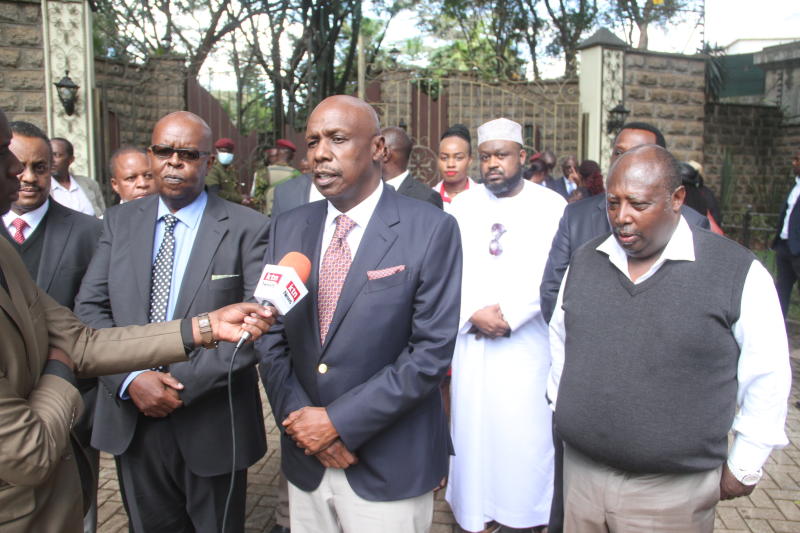 Kanu chair Gideon Moi yesterday said Kenya has lost a hero after the passing on of former President Mwai Kibaki.
Speaking when he visited the late former president's residence in Muthaiga, Nairobi to condole with the family, Gideon said that his condolences are of a personal nature as a family friend.
"We've lost a hero. I remember him with fondness and a lot of happiness," Gideon said.
"I say happiness because I'm talking from a personal basis because we knew the Kibaki family ever since I was a very young man and we grew up with Jimmy."
The Baringo Senator noted that Kibaki's tenure as president saw great infrastructural development and a soaring economy, which will be remembered as his legacy.
"He was a brilliant economist and he put that practice and his knowledge into the service of the people of Kenya and this country," said Gideon.
The Kanu chair said that Kibaki was a fitting example of how one can rise to the pinnacle of leadership without "chest thumping and being rude or obnoxious."
Jimmy Kibaki received Gideon saying that such times call for friends and family.
"We continue mourning a great leader. These are the people we need around us to comfort us at a time like this," said Jimmy.
"When you have a loss like this, you need your friends around to have strength."
Kibaki passed away on April 22 and his body is lying-in-State at Parliament Buildings for public viewing.day.
He will be buried at his Othaya home in Nyeri County on Saturday.