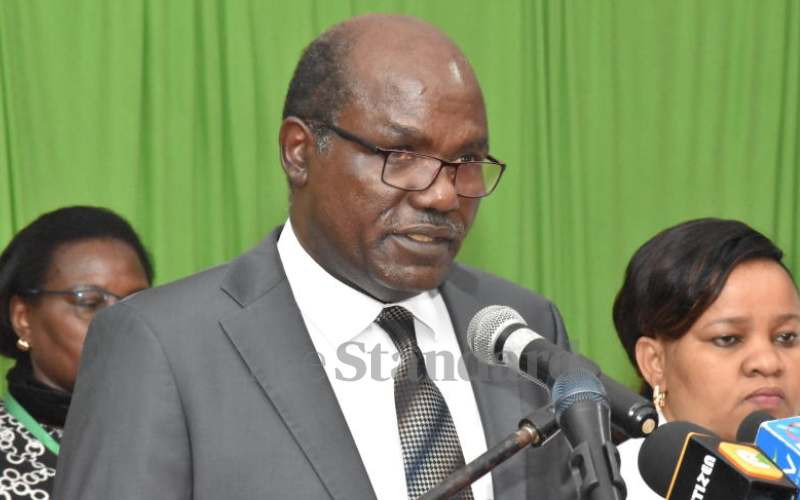 As the General Election date nears, agencies meant to facilitate a credible process seem to be working at cross-purpose. Few are willing to take up responsibilities legally bestowed upon them.
There is plenty of blame game, with stakeholders such as civil society, concerned about an apparent lack of synergy from State agencies involved in the electoral process.
The Independent Electoral and Boundaries Commission (IEBC) paints a picture of a powerless referee, upon whose hands State agencies have abandoned their complementary functions.
The response from the electoral agency giving blanket parole to 241 candidates who had been flagged by the Ethics and Anti Corruption Commission (EACC) three weeks ago, has captured the ping pong over who should implement Chapter Six of the Constitution.
IEBC rejected requests by the EACC to bar the candidates, an indication it did not want to be caught in the integrity mud.
Already, the electoral agency has cleared all the cases through the its internal Dispute Resolution Committee that sat for 10 days, and in the process, only former Nairobi governor Mike Sonko and UDA Kiambu senatorial candidate Karungo wa Thang'wo were disqualified from vying.
In a 63-page report by EACC referenced "Report ...on compliance with integrity requirements by aspirants seeking elective positions in the general election on 9th August 2022," the commission shared information with IEBC asking them to bar the persons.
In the case of presidential aspirants and Murang'a Governor Mwangi Wa Iria, IEBC said they could not bar him because his case was pending in court.
EACC had told the Wafula Chebukati-led commission that they had investigated allegations of the governor obstructing EACC investigators and destruction of evidence when executing a search warrant.
In response, IEBC said: "The matter is pending in court. Aspirant not yet convicted and shall not be barred on account of this."
Wa Iria is seeking to vie for presidency on Usawa Kwa Wote party.
On the matter of former Nyandarua Governor Daniel Waithaka, EACC had investigated allegations of irregular procurement of a foreign-based company engaged by the county government to develop Olkalou water Master plan at a cost of Sh50 million, during his tenure.
EACC investigations established culpability on the part of the aspirant, and he was arraigned in court in Case No. Nyahururu ACC 1/2018 for the for the offences. Again IEBC said the matter was pending in court under Article 50 of the Constitution on the presumption of innocence, and Mr Waithaka cannot be disqualified from vying for Nyandarua governorship.
On former Nairobi Governor Evans Kidero who is facing corruption allegations in court, IEBC argued presumption of innocence, saying he cannot be barred from vying for Homa Bay governorship by virtue of this case.
The back and forth between the two commissions exposes a loophole in implementation of Chapter Six on integrity.
Director of Public Prosecution (DPP) Noordin Hajji a week ago asked the Director of Criminal investigations (DCI) to investigate allegations of candidates with malpractices and present the files today.
It is unclear if DCI will present the list to the DPP today because efforts to reach him were futile.
As the stalemate continues, IEBC finds itself in equally tricky situations with other agencies over respective functions.
They range from providing network coverage, prompt budgetary allocations, among other timely interventions that must be made to ensure credibility of the election.
Appearing on KTN News on Tuesday, commissioners Abdi Guliye and Justus Nyang'aya admitted that IEBC is rushing to have its processes in check, a situation faulted by various stakeholders as careless for an agency that had five years to prepare.
The immediate cost of late procurement breakdown, according to IEBC, could see the taxpayer fork out Sh10 billion to address network-coverage gaps that could have been solved for less.
In recent weeks, IEBC and the Communication Authority of Kenya (CA) have fought over whose job it is to establish the true status of the country's network coverage.
While IEBC claims CA is mandated to do a physical network mapping of its polling stations, CA has retaliated, saying it is the electoral agency's job to test its equipment to determine network coverage. That exercise remains undone, despite the delays witnessed in an election-transmission simulation exercise on June 9. The deadline for testing election technology lapsed 14 days ago.
"As a commission, we are funded to manage the election. We are not funded to establish internet infrastructure in the country," Prof Guliye said.
"IEBC is made to incur unnecessary expenditure… if there is no 3G network, then we have to have satellite technology… which is not cheap. We will have to go back to the exchequer and tell them we need Sh8 billion, Sh10 billion for satellite modems," he added. He explained that a fraction of the amount would have been spent in improving network coverage had all institutions implemented the commission's post-election evaluation report in the last five years.
While faulting other agencies, IEBC points at Parliament as the greatest roadblock to delivering their mandate.
Prof Guliye and Nyang'aya said their hands are tied as they do not control their funding which is dictated by Parliament.
"We have been waiting for funding for five years, only to get it at the 11th hour. And now we are in a mad rush to do multiple activities simultaneously," Guliye said.
He was referring to the Sh44.6 billion budgetary allocation set aside for this year's election, in the current and previous financial years. The Treasury made a Sh21.7 billion allocation to the IEBC in April, topping up the Sh22.9 billion awarded in the 2021/22 financial year.
Guliye pointed out that the election technology needs to be in place "six months before the poll," saying this would be impossible with no funds.
The electoral agency has also accused the august House of delaying passage of laws to facilitate a fair election. The laws include amendments to the Elections Act to exempt the IEBC from live streaming election results.
Another proposed law that flopped in Parliament was the campaign financing regulations that proposed to create a level playing field and cap campaign expenditure. The presidential campaign spending was capped at Sh4.4 billion.
But Parliament accused IEBC of presenting proposed legislation late in the day.
The Judiciary, too, is in the cross hairs of IEBC's attacks. Commissioners have faulted courts for issuing orders that they say affect enforcement of the elections code of conduct, such as the directive against summoning lawmakers Sabina Chege (Murang'a) and Moses Kuria (Gatundu South).
There have also been concerns that courts have delayed to dispense with election-related cases.