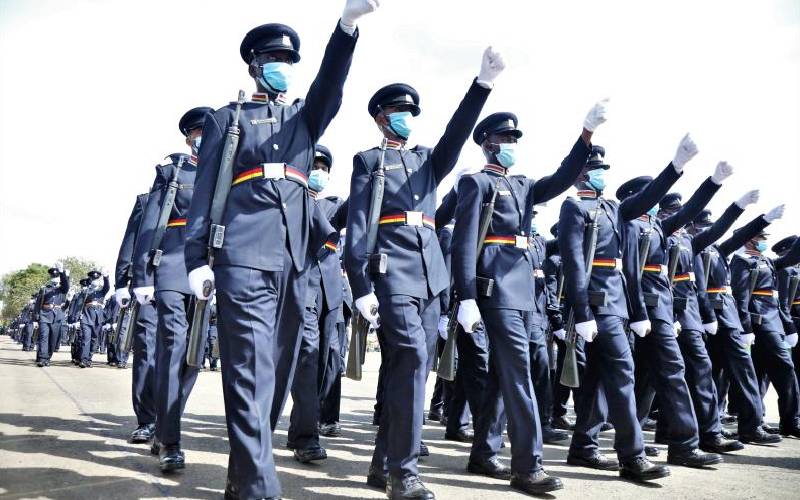 The National Hospital Insurance Fund (NHIF) agreed to cover the police for Sh5.8 billion less than what was quoted, a report by the Auditor-General shows.
The latest report for National Government, Ministries, Departments and Agencies for the 2020-21 year questions why NHIF agreed to offer the cover for Sh2.2 billion.
The report says NHIF had quoted Sh8.1 billion as the annual premium to cover 131,816 officers.
Group Life was tabulated at Sh4.1 billion, Last Expense at Sh782 million, Group Personal Accident Cover, which includes accidental disability and death, Sh1.5 billion and Work Injury Benefits at Sh1.7 billion.
Auditor General Nancy Gathungu says negotiation minutes indicate the two parties agreed to a total annual premium of Sh2,295,594,440.
"However, there was no agreed schedule of the adjustments made to the above schedule and rates applicable for each category and the extent of the risk exposure covered," she says.
"Therefore, the basis for the reduction of the premium could not be ascertained."
The report further raises eyebrows on ex gratia benefits premiums of Sh200 million.
Ex gratia benefits are bills paid by the insurance provider for members who are unable to pay or who in some way have depleted their covers.
The Auditor says the ex gratia claims should be approved by the standing committee of the client before any payment is made on any claim, adding that the contract requires NHIF to submit to the standing committee a quarterly report on all ex gratia claims including the value, beneficiary, background and status of the claims among others.
NHIF was required to submit back any unspent amount of ex gratia at the end of the contract period.