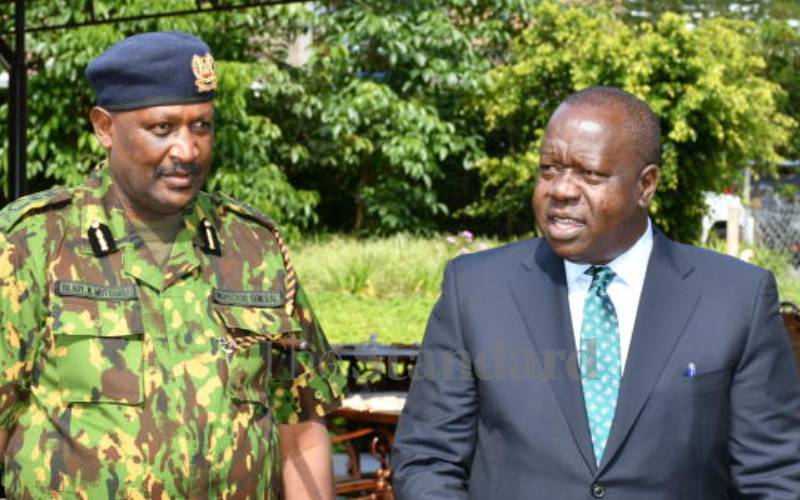 The government has given an assurance country that it will not interfere with internet or election transmission during the coming General Election.
According to Interior Cabinet Secretary Fred Matiang'i, the State fully respects the democratic space as per the Constitution which guaranteed residents freedom of expression and speech.
The CS warned that the government will not stand back and watch as some people interfere with the rights of the majority.
"We have been accused of all manner of things but this will not tempt us to implement retrogressive steps like shutting down the internet during the elections as we respect the rights of all," he said.
Speaking in Naivasha during a workshop to launch the National Cyber Security Strategy, the CS termed cyber-crime as one of the major challenges in the world.
He said that the strategy would come in handy in addressing the issue of data protection within the security forces and business community.
The CS revisited Huduma Namba saying it was meant to ease access to government services. "Those who went to court opposing Huduma Namba were concerned with the issue of data protection and this will be addressed through the Cyber Security Strategy," he said.
Matiang'i said that Kenya's security forces were not immune to cyber threats and the government was keen on investing in protecting its integrity from outside forces.
"This strategy will come in handy in addressing the issue of fake news and abuse on social media as we head to the General Election," he said.
Inspector-General of Police Hilary Mutyambai praised the strategy saying that it would help them deal with the rising cases of cyber-crime. He said cyber-crime is a global concern and threat adding that from 2017, cases of cyber-bullying had risen.
"The new strategy will help us in dealing with cyber-crime and bullying as we move in to secure the cyberspace which is currently under threat from hackers," Mutyambai said.
The ICT Director Heston Malweyi said cyber-crime targeting minors is on the rise in Kenya.