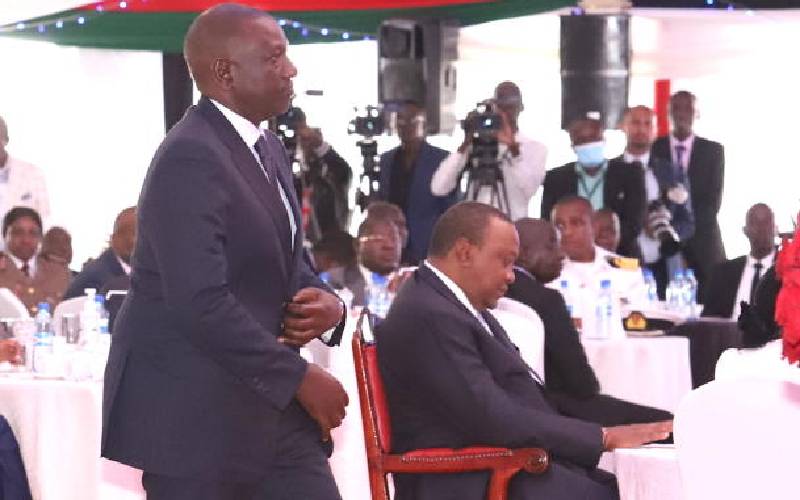 For close to two decades, the National Prayer Breakfast has presented an opportunity for Kenyan leaders to put aside partisan politics and pray together for themselves and the country.
But the event has also brought to the fore the question of leaders' failure to practice what they preach.
This hypocrisy was pointed out by Azimio la Umoja-One Kenya presidential running mate Martha Karua, who called for the actions of the politicians to match their words.
Karua picked a cue from Nyeri Catholic Archbishop Anthony Muheria, who said the prayer breakfast was without meaning if the leaders did not learn to forgive and love each other.
"Could it be we are too used to gather for prayer but not mean it?" Muheria posed.
"We pray that moving forward and especially after these prayers that our actions match our words. How we pray, especially for us leaders, that even as we compete we do so with ideas, not insults, that we lessen the tension in the nation by the way we treat one another," Karua said.​
The 19th prayer breakfast was held under the cloud of a broken relationship between President Uhuru Kenyatta and Deputy President William Ruto.
The tension between the two leaders was ever present in the room as speaker after speaker called for forgiveness between leaders for the sake of the country.
To followers of the past prayer days and prayer breakfasts, the sitting arrangement would have been the first sign that things were different.
Making edits
Sitting at the head table this time was President Kenyatta, Chief Justice Martha Koome and Attorney General Kihara Kariuki.
This arrangement contrasted with what Kenyans have seen over the past years of Uhuru and Ruto's tenure. With the 'secret' out that Ruto and Uhuru were estranged, all the pretenses were dropped.
But if either of them was uncomfortable with the arrangement, they did not show it.
Ruto happily chatted with his colleagues, National Assembly Speaker Justin Muturi and Kenneth Lusaka (Senate).
Uhuru drummed away at the table he was occupying, lost in the music playing and in conversation with Justice Koome.
Ruto asked for Uhuru's forgiveness and conceded that he might not have been the best deputy president. But he too said he had been wronged.
If President Kenyatta heard anything of Ruto's apology and plea for forgiveness, he did not acknowledge it.
Rather, when Ruto was speaking, Uhuru seemed to be reading through his prepared speech and making edits to it. His speech was short and hurried.
Azimio la Umoja presidential candidate Raila Odinga was absent from the event. ODM was campaigning in Western Kenya yesterday as were Ruto's partners in the Kenya Kwanza Alliance, Musalia Mudavadi (ANC) and Moses Wetang'ula (Ford-Kenya).
Bishop Muheria had said in his sermon that "Kenya is still lost in the wilderness of selfish interests". As a result, he said, the coming election was a storm.
"Like the disciples in the sea of Galilee, we find ourselves facing a storm. We see elections coming and it's a storm brewing. Our ship is being rocked by the waves, by the rising exchange of ungodly words and incitement," he said.
But it is doubtful whether the prayer breakfast can do anything to solve that. The national prayer breakfast yesterday served another opportunity for leaders to push their political agenda and the discord ever more apparent.
Ruto's speech, a departure from the past two prayer meetings where he aimed subtle digs at Raila, struck a conciliatory note with President Kenyatta, and with Kenyans.
He asked for the forgiveness of his "boss and friend".
The DP said that while he asked for forgiveness for falling short as DP, he had also received his share of hurt and wanted to go into the election "free of the debt of hurt."
He also recognised the absence of his competitor Raila and surprised his running mate Karua by inviting her onto the dais to speak. He was not supposed to do that and acknowledged it. Karua had been recognised by the host, Samuel Poghisio.