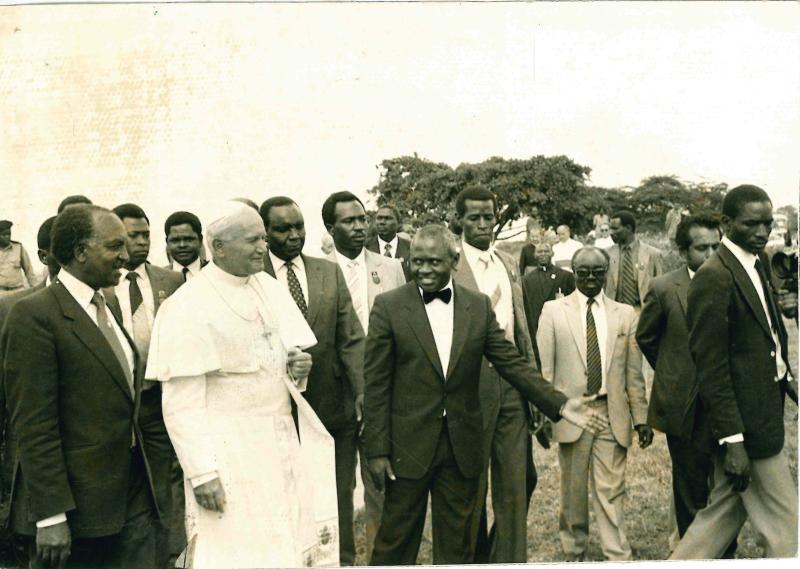 Press photographers are by nature hardened characters who often go out of their way to get that exclusive photo. They will brave dangers such as swollen rivers, play hide and seek with ferocious animals, and even dodge bullets to breathe life into a story.
Among the most celebrated cameraman in Kenya was Mohamed 'Mo' Amin who founded Camerapix in the early 1960s, a time when Africa was ridding itself of the shackles of colonialism.
Mo gained global acclaim with his 1984 coverage of a devastating famine in Ethiopia that pricked the conscience of world leaders into action.
But Mo was never satisfied with the 'normal'. He preferred to use ingenuity, often rushing in where angels dared to tread.
He was among the few photographers who got an audience with the once-dreaded Ugandan dictator, Idi Amin.
But one day in May 1980, Mo may have pushed the envelope a bit too far during Pope John Paul's first visit to Kenya.
As his son, Salim, writes in the book Kenya: Through My Father's Eyes, Mo had heard it whispered that the Pope, in order to keep fit, loved to either jog or swim early in the morning.
The urge to see the head of the Roman Catholic Church in a swimming costume was irresistible and would make global headlines as opposed to the usual white priestly robes.
Moreover, "the official (Pope's) residence was just up our road in Lavington." But that was akin to playing with fire as the Pope's residence was, apart from State House, the most heavily guarded residence in Kenya that week.
With his colleague Duncan Willets, Mo managed to convince the dreaded GSU guards to let them in just after six o'clock in the morning.
The door to the house was open and the two men daringly went from room to room looking for the Pope.
"About the seventh or eighth door, we ran into this big, tall man who looked like an American. I had seen him around the Pope," writes Brian Tetley in Mohamed Amin: Frontline Cameraman.
He was Archbishop Paul Marcinkus, also known as 'the Gorilla'. Mo recalls that Marcinkus was so furious at seeing the two not far from the Pope's bedroom that he uttered the ungodly words, 'what the hell are you doing here?' to which Mo replied: "Father, this is a holy place.
Don't be so angry." Needless to say that Mo's request was denied although he got exclusive pictures of the Pope leaving for Uhuru Park by placing his car in front of the Papal convoy. Though his initial plans came a cropper, Mo, despite being a devout Muslim, was personally 'awarded' by the Pope with a gold and ruby rosary.