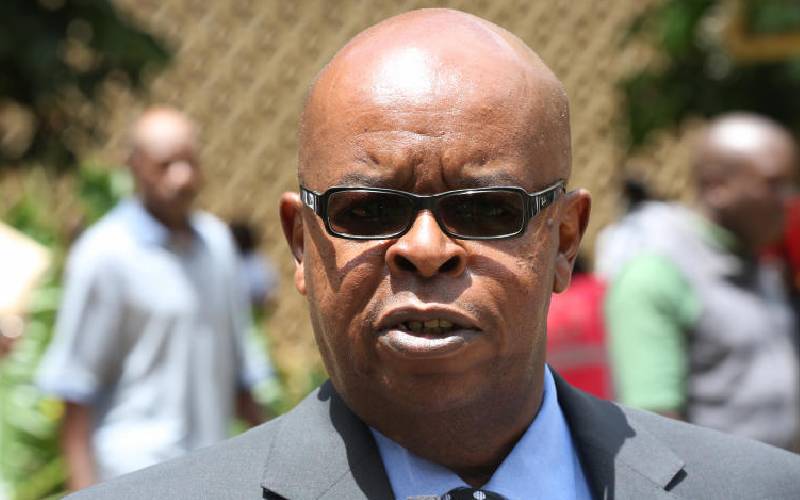 Former President Mwai Kibaki's son Jimmy Kibaki yesterday mourned his father as an excellent person.
Speaking on behalf of the family, Jimmy said his father exhibited excellence in everything he did - from his young age till the time he was elected president of Kenya.
"If there is one word that can encapsulate the life of President Mwai Kibaki, it is excellence. Mzee lived to excel. From the minute or should we say the moment he left his Gatuyaini village in Othaya, to begin his education up to the date he retired as president of this country, that journey had been a journey to excel," said Jimmy.
He added: "And excelling does not always mean succeeding but it means trying your best and what Mzee inspired us to do was to do our best."
Jimmy asked Kenyans to borrow a leaf from his late father and dedicate themselves to excel for Kenya.
He said his father was dedicated to serving the country because he wanted it to excel.
"Mzee dedicated 53 or 54 years of his life in the service of Kenyans and so you can see from the example of his life that he was the ultimate Kenyan patriot. If the measure of patriotism is one's service to the country, then-President Mwai Kibaki was a great son of Kenya," he said.
Father and son
He described the relationship between President Uhuru Kenyatta and his father as one of a father and a son.
This, he said, was displayed when he would watch 7pm TV news with his father, where he would sometimes dose off when other politicians were talking, saying they were speaking for long without saying anything useful.
"But when you (President Kenyatta) came on the screen, he would wake up, sit upright and listen very keenly and when news of that function was over, he would turn to me and say, 'Goodman or good friend,'" said Jimmy.
"And for those of you or us who knew President Mwai Kibaki very well, we knew when he said something like that, that is your ultimate price, he could not say more than that," he said.
He thanked Kenyans for coming out in large numbers to mourn Kibaki and condole with the family.
"We met many Kenyans on Monday, Tuesday and Wednesday when Mzee was lying in state. We have listened to stories of how he was their father and grandfather. Somebody they related with like anyone would relate with a parent or grandparent and we realise as a family that the loss was as great for Kenyans as well as for us and that in its own way comforted us," said Jimmy.
He said if his father would wake up just for one minute from death and see the long queues that had lined up to see him, he would wonder, "asking where are all these Kenyans going and why they are not at work".
"He would probably tell them "wacheni kuregrega na mrudi kazini" because to him, work was very important," he said.