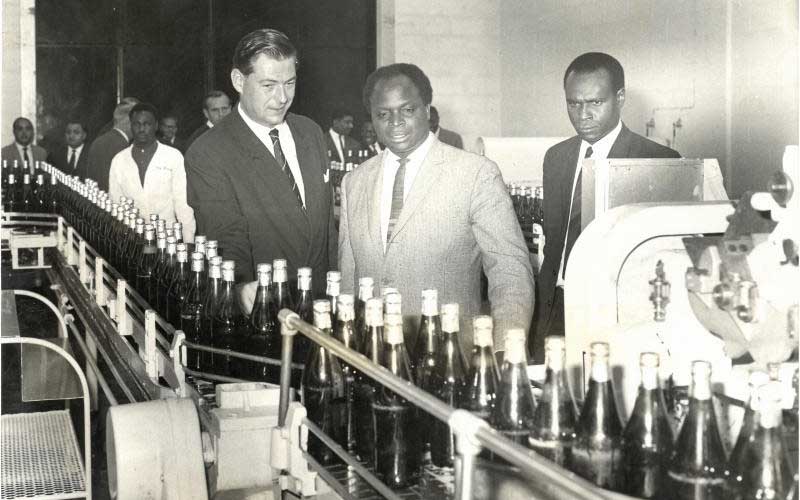 The evening was long and dreadful. The looming night promised to be more dreary. A cold dark one-bedroom house in Nairobi West waited for Mwai Kibaki.
"I do not know what will happen tonight because I do not have money for my electricity bill," fretted Kibaki as he was dropped off at his place by his drinking buddies, Njenga Karume and Charles Kigwe.
The two had just come from African Corner, one of the few bars where Africans were allowed to imbibe the forbidden bottled beer exclusively meant for whites. This bar was owned by a former Nairobi councillor, Muchohi Gikonyo.
On that night in 1960, Kibaki was worried because he had an unsettled power bill of Sh6.50 which he had no way of clearing because he was fresh from Makerere University where he had resigned as a lecturer so that he could be Kanu's executive officer.
The benevolent Kigwe, an uncle to Mama Ngina Kenyatta, settled the power bill and the three friends celebrated Kibaki's freedom from darkness late into the night. Since he was one of the few Kenyans with a car, he dropped Kibaki home.
Touched by his friend's penury, Karume, who was pioneer beer distributor for East African Breweries, had a brain wave. He recalls in a book: Mwai Kibaki: 50 years of National Service how EABL Managing Director Brian Hobson offered a life line to a jobless economist.
"James (Karume) by the look of things, this country will gain independence soon and Africans will become very senior people yet our friend Kibaki has no job apart from this executive officer and they do not pay him. I would like you to speak to him because I would like to give him a job at EABL," Karume quotes Brian telling him.
According to Brian, "we white people are not going to be here forever. When I look at black people that I know, it is only Mwai who would become managing Director of EABL."
To Karume, this was an incredibly big job and he promised to talk to Kibaki. "I took him (Kibaki) for a drink at Kimangu Bar in River Road, owned by former Nairobi PC Fred Waiganjo."
Karume says he kept the job offer a secret as he did not want other people to compete for the position with Kibaki. "I knew that if Kibaki got the position, he would buy me beer. I told Kibaki to forget the Kanu business and that I would take him the following day to see Brian and soon he would be the MD and then chairman of EABL."
Kibaki was unimpressed by the offer and declined and just like that, EABL lost what could have been the first African MD and chairman, but Kanu got a loyal servant and the country gained a minister, vice president and president. Karume too lost a chance to get endless supply of beer from Kibaki.