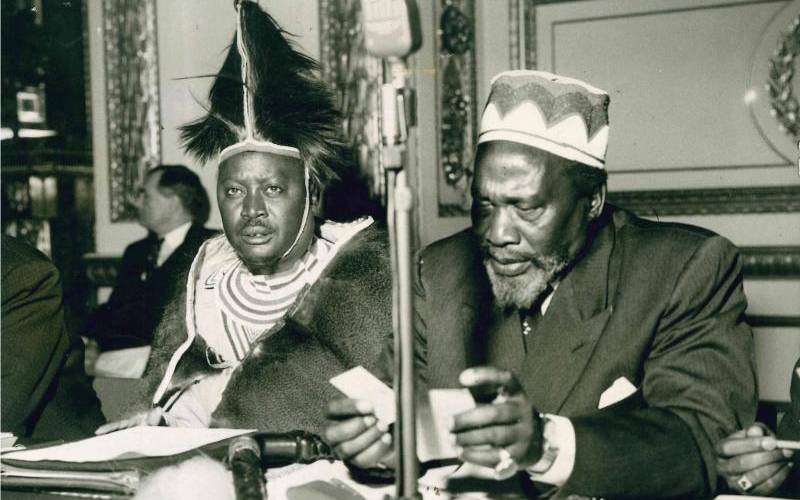 In the dying days of Jomo Kenyatta's presidency, desperate plans were made to reunite him with his old buddy, Jaramogi Oginga Odinga.
Three times, State House appointments were made for the two friends to meet. But a cabal of powerful leaders protected by influential Attorney General Charles Mugane Njonjo thwarted these plans.
At one point, this group sent a bogus delegation to State House, passing them off as Luos from East Africa.
In the end, death kept the two friends-turned-foes apart.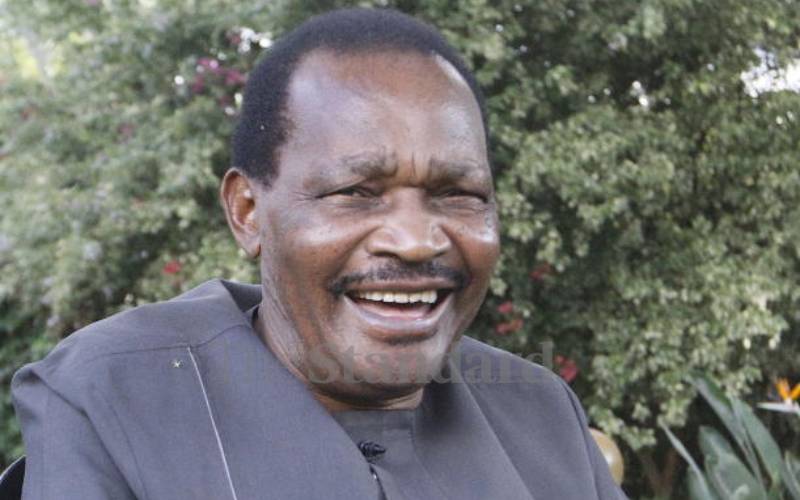 The man who organised the meetings, Ngengi Muigai, offers insights into these intrigues, 44 years later.
He says Mzee Jomo Kenyatta listened dumbfounded, his walking stick at the ready. Had the request come from someone he didn't know intimately, it would have earned the person a whack from the bakora (walking stick). Mr Muigai is Jomo's nephew. His father and Mzee Jomo were brothers.
After the 29-year-old Mr Muigai concluded his submissions, Kenyatta exclaimed, "But that man has been collecting money from communists so that he can destabilise my government."
Kenyatta then summoned his secretary and asked for the bank account number. When he read out the number, Mr Muigai was tongue-tied. He knew all the four signatories of the bank account. He had obtained the evidence from London. He could not understand how this truth had been distorted to implicate Jaramogi Oginga Odinga. That he was raising money from communists to topple the government.
Mr Muigai joined the dots and realised how Mr Njonjo had manipulated Kenyatta to implicate Odinga.
Mr Muigai recalls how he had stumbled on this information when he went to Inchcape offices in London in search of a job. All he wanted was to work with a company that had vast interests in Kenya.
It was here that he learnt that Mr Njonjo, Phillip Ndegwa, Bruce Mackenzie and a third top-notch politician had opened the account with Grindlays Bank ostensibly to raise money for Kanu.
"Every company from Britain, Scotland, and Ireland that was operating in Kenya was supposed to pay Sh2 million into the account. The companies had been made to believe that they were financing Kanu. When I learnt this, I told officials to tell the companies not to pay the money anymore."
When he came back to Kenya, Mr Muigai went to the bank and demanded to see the account and realised how some of Kenyatta's allies had been pocketing kickbacks disguised as donations to the ruling party.
When he gave this information to Kenyatta, the head of state agreed to meet the delegation.
Behind the scenes, Mr Muigai had been working with Oburu Oginga at the request of some Luo elders to reconcile the two politicians. The group had sent Paul Mboya, Phoebe Asiyo and a councilor Midaba (Westlands) to try and get an audience with the president.
"When they first came to my office, I told them that it was impossible. I considered myself a businessman and did not want to be involved in politics. As they were about to leave Mboya said something that tugged at my heartstrings.
"He said that since I had refused to help them see Mzee, they had no choice but to leave. When he drove to Nakuru to deliver the delegation's wishes, Kenyatta was skeptical and even anticipated that they ultimately wanted to bring Jaramogi to him.
"He softened his stand after realising that Odinga was not a signatory to the account and agreed to see the emissaries. When he finally met Mr Mboya, he asked him what he wanted. The head of the delegation explained that they had been sent by Odinga and all they wanted was for the head of state to meet a delegation of Luos from East Africa who would plead Jaramogi's case.
"They told Kenyatta they had decided to send a child (Mr Muigai) who at the time was not yet 30 years because they had been unable to access him through other people. They had tried reaching out to the head of state through his daughter, Margaret Kenyatta, but they did not succeed.
Kenyatta then told them he would send the same child they had sent to inform them when they could meet again."
Kenyatta, according to Mr Muigai, had no objections.
But on two occasions when Jaramogi was scheduled to meet Kenyatta, Njonjo and his powerful networks torpedoed such plans. They feared that if the old friends reconciled, Jaramogi would be picked to succeed Kenyatta.
On one occasion in January 1978, Jaramogi lodged himself at Stag Head hotel in Nakuru at around 4am after driving all the way from Nairobi. On that day, Kenyatta was supposed to meet some Luo elders. When Njonjo learned this he quickly switched the delegation with people from Kisii and Kuria.
"Jaramogi spent the whole day waiting to be called to State House Nakuru but this never happened. Kenyatta realised the trickery and sent word that he would meet his old friend again."
Ironically, Njonjo had used Rift Valley Provincial Commissioner Isaiah Mathenge and his Nyanza counterpart, Isaiah Cheluget, to organise a bogus delegation. When this meeting aborted, yet another one was scheduled.
According to Mr Muigai, Kenyatta was supposed to meet Jaramogi on August 23. However, he died a day before that meeting. He died before he had fulfilled his promise to meet and square things out with his friend.
When Jaramogi went to see Kenyatta's body lying in state at State House, he wailed loudly. He knew how their differences had been exploited by some politicians for selfish ends.
Mr Muigai had crossed swords with Njonjo on a number of occasions.
He explains that he was a member of the group led by mercurial Nakuru MP Kihika Kimani that was agitating for constitutional changes to block Vice President Daniel arap Moi from automatically becoming president in the event Kenyatta died in office.
At one point, he says, he went to the head of state to seek his opinion about the emotive debate. The head of state counselled him that he was free to say whatever he wanted as an individual but cautioned him against public pronouncements.
This is the same message he passed across to other agitators Kihika, Njenga Karume and Paul Ngei. The president's nephew says that Kenyatta said that any constitutional changes should be done in parliament and banned the group from discussing the matter publicly.
Earlier, Kenyatta had given the okay for a meeting that had been scheduled for Meru to take place even though the provincial administration had banned it. He was incensed when Kihika got carried away and announced that he could gather 500,000 people and take them to Kenyatta who would agree to whatever they were saying.
This prompted Kenyatta to convene a Cabinet meeting during which the secretary to the Cabinet, Geoffrey Kariithi, informed the members of Mr Njonjo's earlier warning that imagining the death of the president was seditious. This in effect silenced the change 'the Constitution group'.
Despite the sedition threat, Mr Muigai was not overly worried about political consequences for he knew Kenyatta well.
This was a man who had in 1976 acted as his (Mr Muigai's) father and negotiated his dowry when he went to ask for the hand of Isaiah Mathenge's daughter in marriage.
And when the day of the wedding came on November 26, Kenyatta was the perfect host at his club in Njiru.
The wedding card read that H.E Jomo Kenyatta and the First Lady, Mama Ngina, were inviting the recipient to a wedding ceremony at the Holy Family Basilica and reception at Njiru.
And what a feast it was. Mr Muigai reminisces, "We slaughtered 350 bulls and 250 goats. There was also plenty of beer and an assortment of wines. My mother, Ngina had also prepared 200 churns of muratina."
One thing Mr Muigai remembers to date is that even though the party lasted for three days and thousands of villagers attended the wedding, only 12 plates were missing and only one window was broken. This taught him that if people are let free they will be responsible because despite the hard-drinking all bottles were returned to their respective crates.