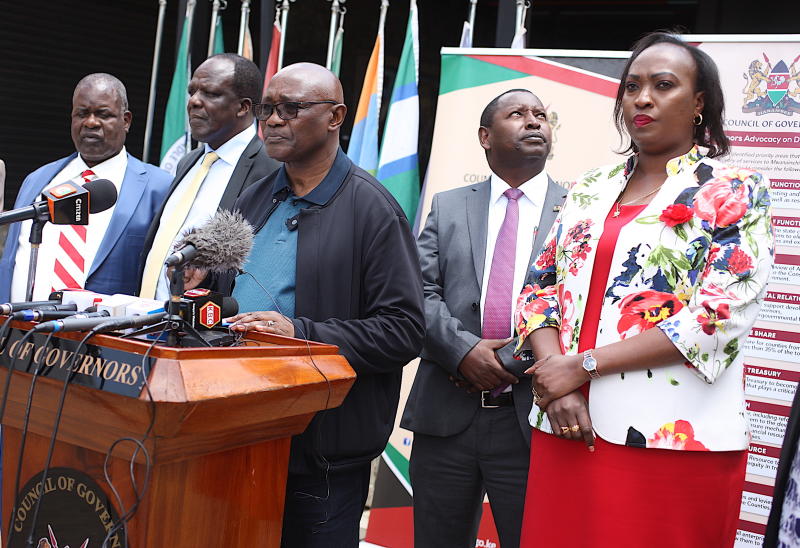 County governments have raised the alarm over continuous delay in the disbursement of funds by the National Treasury.
The national government owed the devolved units Sh148.39 billion, as at yesterday, according to Mr James Ongwae, the vice chair of the Council of Governors.
"We are concerned by the violation of the law and the perennial delays in disbursement of the county equitable share by the National Treasury," Mr Ongwae told journalists after the council held a closed-door meeting.
Mr Ongwae said while Kenyans continued to demand services from counties, the national government operations remain uninterrupted as county services are paralysed and nearly coming to a halt.
The Kisii governor said despite county governments being allocated an equitable share of revenue amounting to Sh370 billion, only Sh221.6 billion was received. He said since January, some counties were yet to receive their share from Treasury.
According to Mr Ongwae, 11 counties are owed Sh8.26 billion since January, while Sh16.20 billion is owed to 23 counties for the February allocation.
In March, all counties were owed Sh29.6 billion, while Sh33.3 billion allocation for April is yet to be released.
The council plans to engage relevant government authorities along with the Treasury to provide an overdraft facility to cover the counties from delayed funding. "We call upon Treasury to expedite release of funds without further delay, failure to which we will seek legal redress to resolve the recurrent delay," said Ongwae.
He said they would also engage Central Bank of Kenya, Commission on Revenue Allocation, Office of the Controller of Budget and the Treasury to provide for an overdraft facility to cushion counties from financial hardships.
Mr Ongwae called on presidential candidates to join them in advocating timely disbursement of the funds.
The COG wants Parliament to fast-track the passage of the County Governments Additional Allocation Bill, 2021, to facilitate access to conditional allocation to counties.
In light of drought affecting many counties now, the council rallied support from the national government, citing limited resources to enable effective response. "The drought situation continues to be a challenge, especially to arid and semi-arid counties. Despite efforts by counties to mitigate this, limited resources have been set aside to complement efforts," said Mr Ongwae.
He at the same time announced the ongoing registration for participants in the 9th Africities Summit to be held from May 17 to 21 in Kisumu.