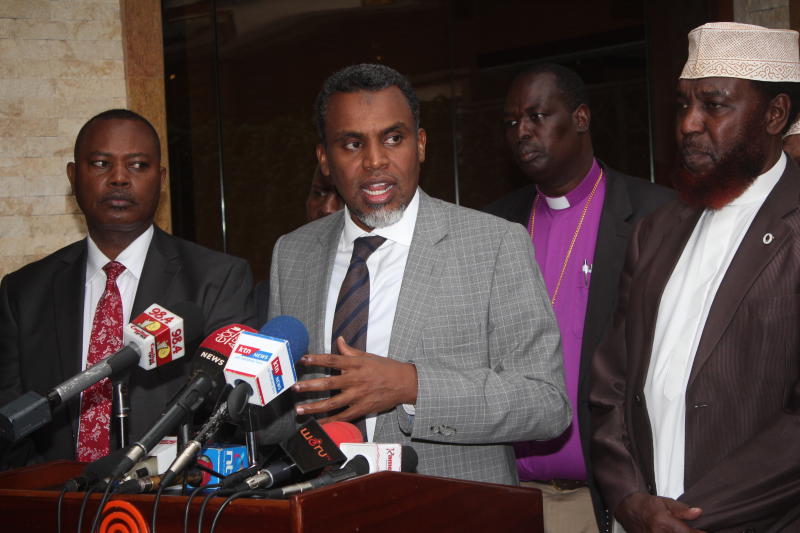 It is the Director of Public Prosecutions (DPP) and not the Directorate of Criminal Investigations boss who has powers to prosecute cases, a court has ruled.
The DPP, Mr Noordin Haji, and DCI boss George Kinoti have been fighting over who between them should investigate and charge suspects in court.
The ruling by Justice Weldon Korir of the Constitutional and Human Rights Division of the High Court follows a petition by activist Okiya Omtatah who accused Haji of overstepping his mandate and usurping powers of the National Police Service (NPS) in the investigation and prosecution of criminal cases.
"It becomes obvious that the petitioner has not established any grounds for grant of any of the orders sought in the petition. The petition, therefore, fails in its entirety," Justice Korir said in his ruling yesterday during a virtual court session. The DPP, he ruled, was lawfully in order to prosecute cases, contrary to Omtatah's views.
Omtatah moved to court on September 6, 2020, seeking guidance on who between the NPS and the DPP has the mandate to investigate and charge suspects in court.
The activist argued that the DPP had usurped the constitutional and statutory powers of the NPS regarding the mandate of the police to investigate crimes and charge suspects.
It was his contention that the turf war between the two constitutional bodies was suffocating and suppressing the criminal justice system.
Omtatah further challenged guidelines on the 'Decision to Charge', which were published on July 30, 2019, by the DPP in a local newspaper.
"The petitioner was aggrieved that, though the 2010 Constitution and various statutes separate criminal investigations from criminal prosecutions, through the guidelines the DPP usurped the mandate to supervise or manage police investigations and to charge suspects," the judge said. But the judge found that the guidelines did not violate any constitutional provision.
He said that the generation and implementation of the guidelines expressly fell under the ambit of the DPP as the person in charge of the Office of the Director of Public Prosecutions.
"It is, therefore, my finding that the petitioner has failed to prove that the guidelines were established in excess of the respondent's constitutional mandate or violated any constitutional provision," Justice Korir ruled.