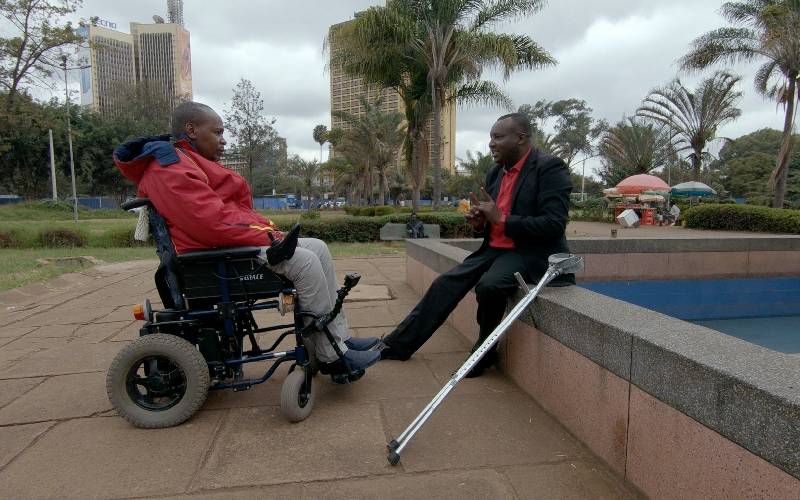 The latest accident statistics released by the National Transport and Safety Authority (NTSA) show the year 2021 had the highest number of fatalities reported in five years.
During the year, the number of people killed on Kenyan roads went up by more than 20 per cent compared to 2020. More than 4,000 deaths and over 16,000 injuries were also reported.
In light of this information, BBC African Eye went on a cloak-and-dagger operation to uncover the filth in Kenya's transport sector that continues to claim lives.
Dubbed Kenya's killer roads, the journalists infiltrated two driving schools in the Country (Rocky and Petanns), intending to find out if they could get a driving licence without undergoing lessons or a test.
Posing as a taxi driver, one of the investigators went to the Rocky driving school and met an attendant only known as Hassan. The investigator had gathered that Hassan could help him get a driving licence at a fee.
As is the procedure, Hassan began by explaining that the driving school offered a three-week-course. However, the investigator insisted he did not have the time and needed the licence as soon as possible.
It is here that Hassan gave him an alternative that would not require him to take the driving lessons or the test. The only prerequisite was a fee of Sh14,000.
"We will book the test but you won't seat for it. You're 100 per cent guaranteed to pass the test and your driving licence will be issued," said Hassan.
Furthermore, Hassan said he could get a smart driving license with the help of an NTSA insider by the name Jeremiah. The duo made the arrangement and the investigating reporter was issued with the smart DL at the NTSA headquarters.
"Everything was done within the NTSA offices and in broad daylight so that shows how much the system is corrupt," said the investigating reporter.
When reached for comment, Rocky Driving School said it was a strong advocate for road safety and ensures all students are fully trained and pass tests on merit.
A similar situation was witnessed at Petanns Driving School where another investigating reporter met an attendant only named as Silas and asked the quickest way to get a driving license.
Silas similarly started by explaining to the undercover investigator how she could undergo training but shifted focus when the client insisted that they had no time to take the lessons.
For Sh15,500, Silas said the investigator would not have to go through the process and would only collect the license once it was ready.
Shortly after a month, Silas reached out to the investigator with a new driving license.
"I have never driven a car, I don't know how to drive but I have my driving license. How many people out there have driving licences yet they do not know how to drive thereby risking people's lives?" she wondered.
In a statement, however, Petanns said it should not be associated with Silas' actions saying it strictly abides by the law and driving regulations. In addition, Petanns said it had authorised staff and NTSA accredited trainers that are in place to handle its students. Silas, they said, was not an authorised staff.
The documentary also shed light on the Public Service Vehicle (PSV) industry in the country.
All vehicles are supposed to pass annual NTSA safety checks to be declared either roadworthy or un-roadworthy. However, some of the systems are corrupted and with a few coins. A completely written off vehicle can be given a new lease of life to operate.
According to two mechanics that were asked to assess a PSV vehicle captured on camera in the documentary, the vehicle was astonishingly unserviced. It had a total of 39 faults and could easily cause a fatal accident.
But another mechanic who works in Thika named James Mathenge showed the team of investigators that there is not much work that is needed for NTSA officials to clear such vehicles.
Since Mathenge knows an inspection officer at NTSA, he told the team that the officer should be given a sum of money to clear the vehicle without bothering to assess its roadworthiness.
Mathenge said: "Let us give a huge sum of money because it (the PSV) has many faults with the engine. Sh10,000 is what I will give the inspection centre. I will do a good job and ensure they will not get into the vehicle," says Mathenge.
The investigators did all that was required and parted with a total of Sh24,000. They later received confirmation that the minibus is now PSV compliant and can use the country's roads.
David Njoroge Kiarie, the Chairman of the Road Association of Kenya says Kenyans will continue losing their lives if corruption in driving schools and motor inspection is not stopped.
"Our roads are not safe. When someone leaves home, it is not a guarantee they will go back safe," Njoroge said.
Following the findings of the investigation, NTSA said it had a zero-tolerance policy towards corruption. It is therefore investigating all wrongdoing that has been highlighted by the BBC program.