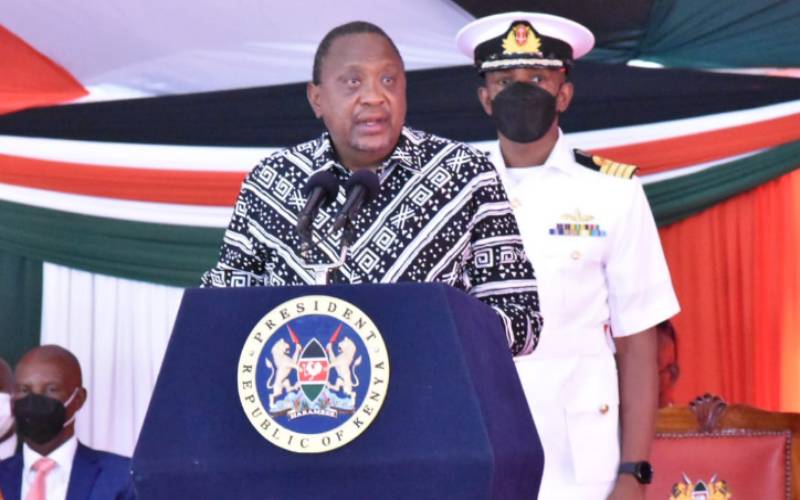 For the better part of Monday, March 7, social media in the country was awash with reactions from a video that went viral.
In the video clip, suspected boda boda riders are seen sexually harassing a female driver on Wangari Maathai Road in Nairobi. The incident occurred last Friday, March 4.
The lady is caught on video screaming for help as a group of men descend on her, ripping her clothes in the process. The woman helplessly held onto on her seatbelt.
The video caused a national uproar over rising insecurity in the country, fuelled by rogue boda boda operators.
Barely 24 hours later, President Uhuru Kenyatta has reacted to that viral video.
Kenyatta, who was the chief guest at the International Women's Day celebrations at the Kenya School of Government in Kabete on Tuesday, March 8, cut short the flow of his speech to address that issue.
The Head of State, appearing upset, said: "I must, at this stage, refer to what was referred to here, because without a doubt that (the now-viral boda boda harassment video) was a very disheartening thing to see, and it is only one of others that have occurred across this country, we must be honest.
"And yesterday (Monday, March 7), I did give instructions, and I have ordered a crackdown on all boda boda operators starting here in Nairobi and moving across the country," Kenyatta said amid applause from the attendees.
President Kenyatta, thereafter, warned politicians against claiming the Government was targeting low-income business people with the new directive.
"I know with this [directive], and because we are in the silly season of politics, there are some out there who will go out and start saying: 'the government is harassing small traders, small-scale business people'… There is nothing further from the truth. We want to see our young people succeed in their businesses.
"We applaud the many wonderful young men, and in some cases women, who ride these motorbikes and do great service to this country – delivering people who ordinarily would have had to walk long distances to places where a matatu wouldn't go – and helping passengers with their luggage to get to their doorsteps.
"But friends, that is not a license for you and your motorbike to harass pedestrians by driving on pedestrian walkways and chasing them off into the road. It's not a license that allows for a boda boda to be used to do drive-by shootings, or to break vehicles, windows, and harass motorists along the road.
"And most definitely, it is not a license, for you to strip and remove dignity from our women… No, No! We want to work together with you, we want to help your business prosper. But you must also do your bit, kwa sababu wateja wenu ni hawa akina mama… Watakuwa wateja wenu namna gani ikiwa nyinyi wenyewe mnawakosea heshima vile mmewakosea?" President Kenyatta said.
The president did not only order a crackdown, but also issued an order to have all the boda boda riders re-registered.
"Tafuteni hao wabaya katikati yenu muwaondoe. We are going to re-register you all again, and we must make sure… I have instructed the law enforcement officers to use the instruments within the law to punish these perpetrators, and there should never be a repeat of what we saw; for this, is a blight on the entire Kenyan society."
Meanwhile, Interior Cabinet Secretary Fred Matiang'i on Tuesday morning announced that a special taskforce will be formed to streamline the boda boda sector in the country.