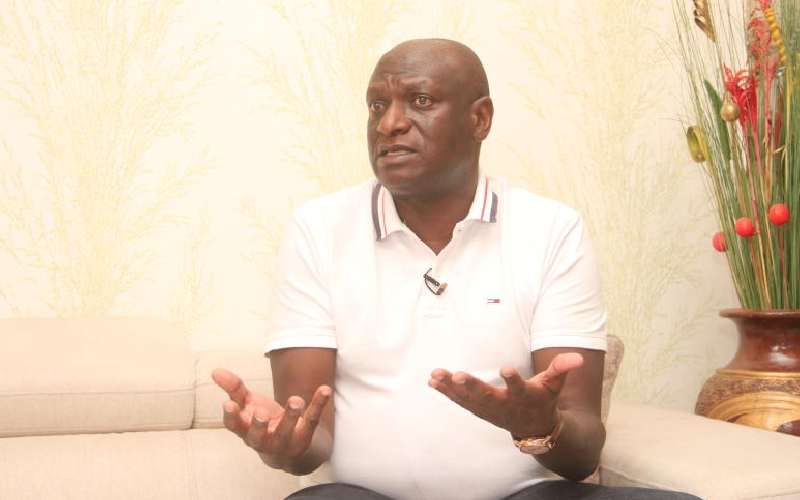 Two days after resigning as Devolution Cabinet Secretary to vie for the Kericho governor seat, Charles Keter is a man with mixed feelings and regrets over the fallout between President Uhuru Kenyatta and Deputy President William Ruto.
As he plots his official campaign launch on a United Democratic Alliance (UDA) ticket which is allied to Ruto, the former CS regrets that he has to "abandon my president" at this point in time.
"Ideally, I would have wished to team up with both considering that Uhuru and Ruto come a long way, and I have comfortably worked with both. But politics being what it is, political realities compel me to launch my bid on UDA, which is my people's party of choice," Keter, who has served in Uhuru's Cabinet in Energy and Devolution dockets, said yesterday.
The former Belgut MP, who speaks impeccable Dholuo, further indicated he would not have minded taking the ticket of Orange Democratic Movement (ODM) of Ruto's political nemesis, Raila Odinga, "because I am friendly to the gentleman and there are pockets of his diehard supporters in our county".
However, he maintained that "politics is local" and hence his decision to move with the current political tide. Keter has worked closely with Uhuru and Raila, having been members of Kanu in the 9th Parliament.
Keter and Uhuru teamed up as members of the National Assembly's Public Accounts Committee (PAC), which kept the Mwai Kibaki-led National Rainbow Coalition (Narc) government on its toes.
He appears to have won the confidence of Uhuru who extended an unimaginable gesture by appointing him – yet he had won the Kericho senator seat – the Energy minister.
Why Uhuru decided to subject residents of Kericho to a repeat poll is a matter that the outgoing CS is cagey about. Was it a matter of vested interests on the part of Keter and his closest ally, the DP, or purely an issue of rewarding a friend, alternatively a matter of appreciating his expertise and connections in the energy sector?
Keter, who initially served as Assistant Minister for Energy in the Grand Coalition government, maintains he never lobbied for the appointment. "I can only thank the President who deemed it fit for me to serve my country in a different capacity as Cabinet Secretary," he said.
But yesterday, Keter confessed that all has not been rosy working with the president and his deputy.
Under pressure
While he had not experienced specific embarrassing moments, the outgoing CS pointed out that there are times he had been under pressure to deliver on given targets, including reports, and was even reprimanded by Uhuru.
"This is however nothing out of the ordinary. It is just the usual matter of meeting the demands of a boss and sometimes being wrongfully reprimanded. If it was something serious, I would have been kicked out of office," said Keter.
Although very guarded in his responses, he concedes that the tensed up relationship between Uhuru and Ruto at some point was a matter of discomfort for the members of the Cabinet presumed to be allied to the DP. "I was nonetheless not fired because I was delivering on my mandate. Actually, most of us were."
And although he considers Raila as "our biggest rival at the moment", Keter observes that the ODM leader has partly shaped his political career, having teamed up with him in 2005 to form the Orange party.
"He appointed me as an assistant minister in the Grand Coalition government and I don't consider him an enemy – only that our political paths are different."
That Keter is a bosom buddy of Ruto is not in doubt. Yesterday, he said that he was happy to be on the campaign trail once again and vowed to do everything within his power to deliver the presidency to Ruto.
"He is the best president that Kenya is waiting for. He is a hands-on operator whose words one can count on. He is the change that we all desire," said Keter. Asked about the impact of the entry of Amani National Congress (ANC) leader, Musalia Mudavadi, in the pro-Ruto matrix, Keter shied away from a clear answer.
And what about the possibility of Ruto stepping aside and fronting Musalia as Kenya Kwanza Alliance's presidential candidate owing to spirited resistance by the powers-that-be as has been suggested by Musalia's backers?
He declined to respond, only insisting that "as you know, I am only two days old out of government, I am yet to familiarise myself with such political manoeuvers."