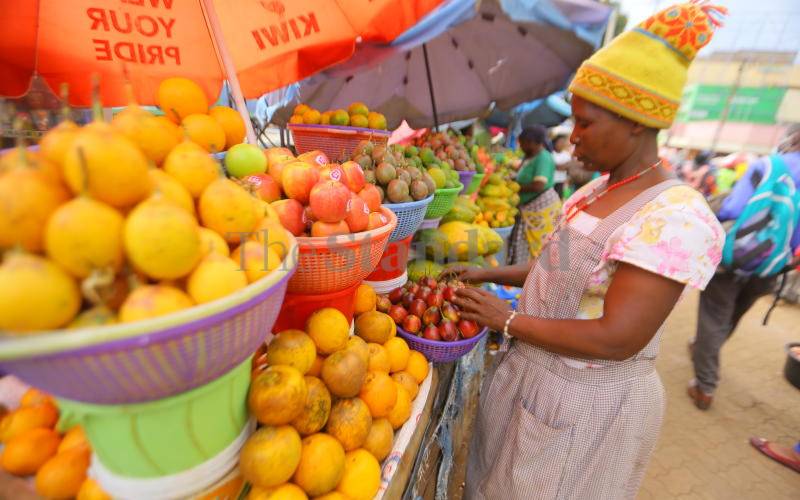 Last Tuesday I was honoured to get a slot in the 'hot seat' in the Situation Room of Spice FM Radio Station. Designed to drive an intelligent discourse on topical issues in the land, the show would easily pass as the most innovative product of the decade within the industry. My brief with the show hosts was to explore the thorny question of the rising cost of living.
While official data projects a robust economic expansion over the Jubilee administration's era, the undeniable truth is that this growth doesn't seem to reflect in the majority of our households. I have explored the systemic policy flaws that could explain this anomaly before. Today, we stretch our imaginations further to try to understand the foundational issues driving the cost of living and options available for households.
Related but different
A major distinction to make first is the difference between inflation and the cost of living. While they are related, they do not mean one and the same thing. Inflation refers to the loss of purchasing power of the shilling over time due to an increase in the prices of goods and services. That means given the same basket of items, due to inflation it will cost more in shillings to buy the same items when there is high inflation.
For instance, the Kenya National Bureau of Statistics reports that the year on year inflation was 5.39 per cent in January 2022. The main drivers of this change were an increase in prices of baskets of food and non-alcoholic beverages (8.89 per cent); transport (6.54 per cent); housing and related utilities (5.11 per cent) between January 2021 and January 2022. This implies that it would cost about 5 per cent more to buy the same items in the basket.
Cost of living on the other hand refers to the cost of a set of basic items that provide a preferred living standard. The commonly used set of items includes food, housing, transport, taxes and healthcare. From a casual overview of this set of items, one can easily notice that cost of living is not universally applicable across locations, households and even at individual levels. While there would be general economic policy triggers that drive changes in the cost of living, individual household choices would also significantly drive these parameters.
Thus, for us to understand what could explain the general increase in the cost of living within the country at the moment, we have to walk backwards in the value chains of each of the five determinants. This would also give us insights into the policy options available at the macroeconomic level and possible coping mechanisms at the household level.
Drivers
Beyond the textbook theories, there are six key explanatory factors that could explain the current high cost of living being experienced across the country. These include national fiscal policy choices, market structures, governance problems, externalities, socio-cultural issues and personal choices. Let us then deconstruct them and see how they get reflected in the household price lists.
Fiscal policies influence government revenue-raising measures and taxes to impose on its citizens. While at the official level the government still denies the risk of the huge public debt burden, the debt servicing costs are glaringly outstanding in its expenditure programmes. In the 2021/2022 fiscal year, the country is on course to spend at least Sh500 billion on debt interest alone.
With tax revenues still below Sh1.7 trillion as per the 2020/21 fiscal year data that would mean debt interest alone is gobbling about 30 per cent of our tax revenue. The huge infrastructure investments have had an insignificant trickle-down effect on the household level. Still under high pressure to demonstrate performance, policymakers have resulted in quite disruptive and punitive tax regimes that have had a huge impact on the costs of basic goods and services for households.
A good case in point is the Value Added Tax on petrol and products, gas and other basic essentials. These taxes not only reduces the disposable income for households but also triggers price increases that eventually get passed on to consumers. With recent IMF conditionality to increase VAT on the products to 16 per cent, things can only get worse in the coming days.
On market structures, the defects are twofold. One, our markets for primary household goods like maize, wheat, rice, sugar and vegetables are rigged ab initio by middlemen in cahoots with senior people with access to political and State power. If not so, can anybody explain why the markets are extremely efficient internally, but completely impenetrable for regulation, formalisation and taxation purposes?
Why is not possible for farmers to directly access our big auction markets like Kikomba, Korogocho and Kongowea? Why were the cooperatives let to die when they could have helped farmers increase their bargaining power for farm inputs and selling price for their produce? Even where they exist, they are in the hands of powerful cartels that frustrate any attempts to empower the ordinary folks.
Two, while the value chain for local produce is ruled by merchants of greed, the country is now a net importer of almost everything. The most recent data indicates we have become net importers from our neighbours Tanzania and Uganda. In yester years, these were our major export destinations for processed goods and services. Now we are importing eggs, maize, oranges and milk products from them. Everything else in our shelves including cooking oil, clothing, kitchen ware, construction materials are imported from all over. This exposes these items to exchange rate risks. For example, with the weakening of the shilling against the dollar from around Sh101 months ago to about Sh115 presently, it means cost of all imported items has gone up by the same rate. That costs eventually is transferred to the consumer.
On the problem of our weak governance systems, let no one make any mistake. The cost of corruption across all the sectors of the economy ultimately has a final resting place; and that is at the basket of items that define standards of living. We all know illegal money often get stashed out of the local economic system or is cleaned in the real estate sector. This in effect drives the cost of housing without the supporting market fundamentals. As somebody observed on social media in this season of resignations to join politics, how can it be that a political office seems to be the most profitable venture in the economy? Top public officials and private sector honchos have all eyes set on political offices. Could they be trading on privileged insider information? How did they acquire their millions set to oil their flashy campaigns? Aren't their official salaries in the public domain?
The externalities are driven by our interdependencies with the rest of the world. While there is often little policy makers can do, there are some protectionist policies that can be adopted to cushion consumers.
Coping mechanisms
The final two factors are individual consumption habits and socio-cultural influences. Out of them households can also build reserves to cushion themselves against high cost of living. For instance, where one lives, where and what they eat, which schools their children go to and even what healthcare facilities one seeks treatment in is within the control of individual consumers.
With globalisation and the rules of human interactions now dictated by the social media economy, fads and obession with show-offs has become a major driver of household costs of living. Millions of people have gone into huge debts, triggering a parallel expenditure item in interest costs simply to grow media likes.